We've updated our Privacy Policy.
By continuing to use this site, you are agreeing to the new Privacy Policy.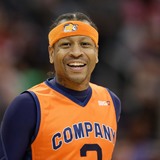 One of the greatest players in 76ers history decided to step into the spotlight after the team's 120-116 win over the Nets at Wells Fargo Center on Friday night.Allen Iverson randomly showed up to the media room while postgame press conferences were taking place, and he delivered a few funny responses to questions from reporters.When asked if Iverson wanted to enter the game, while...
Subscribe to the 76ers: https://www.youtube.com/user/philadel... For news, stories, highlights and more, go to our official website at http://www.nba.com/sixers/?tmd=1 Like us on Facebook: https://www.facebook.com/Sixers/ Follow us on Twitter: https://twitter.com/sixers?lang=en Follow us on Instagram: https://www.instagram.com/sixers/
By Matt Rappa, Sports Talk Philly editor The Ice Cube-led, three-on-three basketball league, BIG3, will not return to Philadelphia for its second season. The league announced its 2018 summer schedule on Monday, with the season opener slated for Houston, Texas on June 22, followed by appearances in Chicago, Oakland, Detroit, Miami, Toronto, Boston, Atlanta, Dallas and lastly Brooklyn...
LIKE WHAT YOU SEE?
GET THE DAILY NEWSLETTER:
Allen Iverson has had quite the interesting calendar year. In March 2017, he made headlines when he announced his Big 3 team "3's Company". Five months later, he was suspended for skipping a Big 3 game in Dallas. In last night's Sixers/Hornets game, which Kevin Kinkead broke down here, AI once again set the Twitterverse ablaze with an interview that you need to see and hear for yourself...
Allen Iverson got lost trying to navigate the Pepsi Center on Friday night, a reminder that "it's been a while" since he roamed those halls. But as Kenyon Martin walked toward the court, memories from his seven years in Denver started flooding his mind. Much has changed for Iverson, Martin and Marcus Camby, the three former Nuggets honored during Friday's "2000s Night" as part of...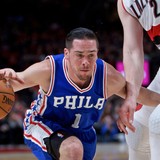 Nobody celebrates Christmas quite like the Philadelphia 76ers do.Sixers big man Amir Johnson posted a priceless photo to his Instagram Story on Friday of an apparent Christmas gift adorning third-year guard TJ McConnell's locker: a No. 3 "White Iverson" jersey. The gift makes for a cool double entendre beyond just the reference to the Post Malone song since McConnell is a Sixers...
Allen Iverson versus LeBron James in their primes would have been amazing to watch. Both of these teams were underdogs heading into the finals, which is a major reason why we wanted to simulate this game. LeBron also takes the challenge of guarding Iverson when he catches fire. It was fun to watch. After watching the simulation, do you think it would go down like that or would...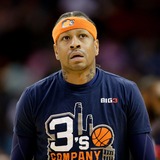 The BIG3, Ice Cube's new three-on-three basketball league made up of former NBA players, stopped in Philadelphia this past weekend. The league has used Allen Iverson as a lynchpin of its marketing, so as you'd expect, 76ers fans were fired up to see The Answer in action — even though he's been a shell of his former self on the court.They were disappointed, however, when Iverson was...
The play of Cleveland Cavaliers point guard Kyrie Irving has often been a subject of debate during his six-year career, but in the opinion of Golden State Warriors forward Kevin Durant, Irving's ability surpasses that of Hall of Famer Allen Iverson. Durant appeared on Bill Simmons' podcast on Tuesday and offered his reasons (at the 37:07 mark) why he believes that Irving should rank...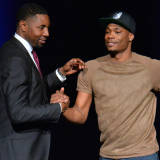 The Big3 draft was this Sunday, and with the teams set in stone, everything just got a little bit more exciting. Ice Cube's new basketball league features everything from hand-checking to a 4-point line (where is Antonie Walker when you need him?) and a few current and future hall of famers either playing or coaching. Let's take a look at how the draft netted out and how good each...
MORE STORIES >>
76ers News

Delivered to your inbox

You'll also receive Yardbarker's daily Top 10, featuring the best sports stories from around the web. Customize your newsletter to get articles on your favorite sports and teams. And the best part? It's free!