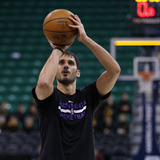 A pair of Western Conference teams have just the guy in mind to help fortify their respective benches for a playoff run.ESPN's Marc Stein reports on Tuesday that Omri Casspi has been cleared for basketball activities after injuring his shooting thumb and is drawing interest from the LA Clippers and the Memphis Grizzlies among others. The 28-year-old Casspi, who is averaging 6.0 points...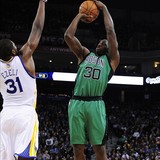 One player not expected to still be a Celtic when the team went the rebounding route and used their top draft picks in consecutive years on power forwards is Brandon Bass. Yet he remains in Boston, a starter and key cog in the team's unsuspecting playoff push. Bass is an interesting player. Put him on the 2008 squad and he'd probably be a folk hero like Leon Powe. Have David West...
Just under a month away from the start of the preseason, the Boston Celtics are looking at a surplus of young talent at the center position. While Head Coach Brad Stevens still has time to make the call on who gets the first tip, the decision is not an easy one by any means. Here's a look at all the options Stevens has and what they bring to the table: Brandon Bass: Though a forward...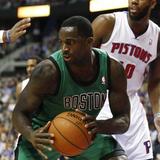 Brandon Bass is 6'8" 250 pounds, but he looks like a skinny kid next to the WWE's Big Show:Does @WWETheBigShow have a new tag team partner? He met Brandon Bass before WWE Live at @tdgarden tonight! #WWEBoston pic.twitter.com/8amqzg0Hy1— Boston Celtics (@celtics) September 14, 2014Big Show's WWE profile lists him at 7 feet tall and weighing 425 pounds.Follow Mark Vandeusen on twitter...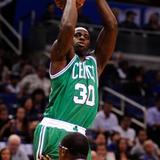 After selling his house, is Brandon Bass set to leave the Boston Celtics this year? 
Every morning, we compile the links of the day and dump them here… highlighting the big storyline. Because there's nothing quite as satisfying as a good morning dump. BASSketballin in Orlando with Brandon bass. Best we could get was 95%. Still a little room 4 improvement . Doin it pic.twitter.com/GNDmtamFMc — Ed Palubinskas (@freethrowmaster) August 22, 2014 Props to Brandon Bass...
I had some fun last week coming up with hypothetical story lines and situations for the Boston Celtics and their upcoming season. So, with football right around the corner, let's see what positions the Celtics' players would play if they switched sports. Brandon Bass- Tight End Brandon Bass / Rob Gronkowski The tight end position in the NFL is littered with players who have a background...
Dear Readers,Above is a picture of boxer/gambler Floyd Mayweather, Team USA Members Dion Waiters and Demar Derozan, current Boston Celtic reserver Brandon Bass, and former Sacramento King, Olden Polynice. And I'm completely open to suggestions on how, and why, this photo occurred. Thanks in advance,Matt Richissin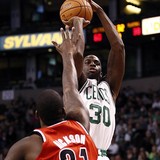 Brandon Bass receives high praise from CLNS Radio's Celtics Post Game Show...       Your browser doesn't support audio. Please download the file: audio/mpeg   It's been a tough season for this diehard Boston Celtics fan. Due to business distractions, the launching of a brand new style of podcast and the usual hustle and bustle of every-day life, contributions on the Celtics Post...
As reported earlier this week, there has been a wide range of interest in Celtics power forward Brandon Bass. Bass has been a consistent force on both sides of the ball for Boston this year, so the fact that he is drawing interest comes at no surprise. Of the teams calling Danny Ainge asking about potential deals involving Brandon Bass, I would wager a guess that several of those...
MORE STORIES >>
Clippers News

Delivered to your inbox

You'll also receive Yardbarker's daily Top 10, featuring the best sports stories from around the web. Customize your newsletter to get articles on your favorite sports and teams. And the best part? It's free!