We've updated our Privacy Policy.
By continuing to use this site, you are agreeing to the new Privacy Policy.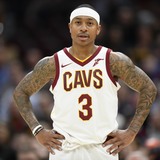 This shouldn't come as too much of a surprise, but Isaiah isn't going to start in his Lakers' debut. Obviously, that means he's coming off the bench."Isaiah Thomas will come off the bench when he makes his Los Angeles Lakers debut ‪Saturday night against the Dallas Mavericks, league sources told ESPN."Again, this isn't a surprise. But if all goes according to plan, his stint on the...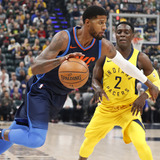 Los Angeles Lakers assistant coach Brian Shaw did not tamper with Paul George when he was still with the Indiana Pacers, according to a report.The Pacers complained to the NBA about possible tampering on the Lakers' part, but according to ESPN's Ramona Shelburne, a league investigation found no evidence of tampering on the part of Shaw. There was some evidence of tampering from the...
Los Angeles Lakers coaches Luke Walton and Brian Shaw go up against Lonzo Ball and Kyle Kuzma in an Around The World Shooting competition. If you want to watch the full video without being sped up, head here: Did you see Lonzo Ball throw out the first pitch at Dodger Stadium? https://youtu.be/00KF8VMZmvE What about our one-on-one interview with Lonzo Ball? https://youtu.be/db3Cu8lQPAk...
LIKE WHAT YOU SEE?
GET THE DAILY NEWSLETTER: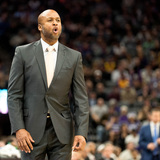 The Lakers may have shipped D'Angelo Russell off to Brooklyn in a trade over the summer, but not everyone has forgotten about the impact he had on the team last year, it seems.A video was recently posted to the NBA TV Facebook page, and it shows associate head coach Brian Shaw talking to some Lakers players during shootaround. For some reason, after complimenting the team for working...
Los Angeles Lakers plan to hire Brian Shaw as Luke Walton's lead assistant coach.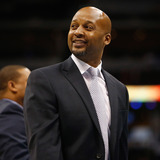 Brian Shaw is close to reaching a deal with the Lakers to join new head coach Luke Walton's coaching staff. The Los Angeles Times' Broderick Turner reports the news and says the position is for Shaw to become Walton's lead assistant. Shaw was a former first-round pick by the Boston Celtics and played 14 seasons during his career. He spent the final four seasons of his career with...
And so the Brian Shaw era of the Denver Nuggets history book came to a close, not with a bang, but before a Tuesday night home game against the Bucks in early March – a whimper if there ever was one. Without rehashing too many of the grisly details, here's what went down in Shaw's not-quite two-year tenure in Denver: a 56-85 overall record, an avalanche of uninspiring effort and...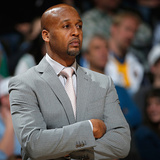 By Steve DelVecchio The Denver Nuggets announced on Tuesday that head coach Brian Shaw has been fired. David West and plenty of others feel that Shaw was not given a fair shot. West, who worked with Shaw when Shaw was an assistant coach with the Indiana Pacers, said the Nuggets had no chance of winning with the lack of maturity on their roster. "That's bulls–t," West said of Shaw...
By Vincent Frank In a less-than-surprising move, the Denver Nuggets have fired head coach Brian Shaw. The team is currently 20-39 on the season and simply hasn't played inspired basketball this season. Things came to a head recently when it was reported that players are breaking team huddles with a countdown to the end of the season. Definitely not a good sign. Including this...
Thursday around the Denver Nuggets involved rumors that their head coach may be lured away to the bright lights of Broadway and Madison Square Garden. ESPN reported that there was a chance that Brian Shaw's first year at the Pepsi Center would be his last and that the former NBA guard was a prime candidate for the vacant New York Knicks job. Shaw made things pretty clear, however...
MORE STORIES >>
NBA News

Delivered to your inbox

You'll also receive Yardbarker's daily Top 10, featuring the best sports stories from around the web. Customize your newsletter to get articles on your favorite sports and teams. And the best part? It's free!