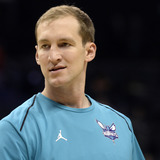 This is absolutely embarrassing. There's no other way to go about it. Charlotte Hornets center Cody Zeller is a seven-footer. He should be able to dunk without a problem. That's until we realize Zeller himself has absolutely no hops.Check out this play against the Minnesota Timberwolves. Here, Zeller attempts to put back a missed perimeter shot by teammate Dwayne Bacon.It did not...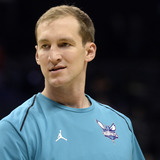 The New York Knicks held a block party on Tuesday, and Cody Zeller was the guest of honor.During the Knicks' game with the Charlotte Hornets, Zeller went up on a possession attempting to score. His first shot seemed to be rejected by the rim. The next three shots appeared to be blocked by a combination of Kristaps Porzingis and Kyle O'Quinn: About the only thing good we can say for...
I've lived in Charlotte my entire life and I've never remembered a time, other than perhaps when the Panthers made it to Super Bowl XXXVIII, when the Charlotte sports atmosphere had such a buzz and excitement about it like it did when the city got its beloved basketball team back. The old school Charlotte Hornets never really left, and the city never really stopped loving the team...
In 2013, the then Charlotte Bobcats owned the fourth pick in the NBA draft. Hope of nabbing a franchise superstar to build around buzzed throughout Charlotte fan circles. When Cody Zeller's name was announced as being that fourth pick, fans cursed and ridiculed the organization for yet another unsuccessful draft pick that would be Charlotte-bound. Images of Adam Morrison resurfaced...
 "With the 4th pick in the 2013 NBA Draft, the Charlotte Bobcats select Cody Zeller from Indiana University." When these words echoed out of former NBA commissioner David Stern's mouth, the Charlotte fan base had a very mixed reaction.  Some of their reactions probably ranged from: "Why not take Kentucky freshman Nerlens Noel?" "I hope he does not end up like Adam Morrison." "He...
Charlotte Bobcats rookie Cody Zeller thought he was going up for an uncontested layup.  Instead, Greg Monroe made like a grappling hook and absolutely destroyed Zeller, sending him and his weak sauce layup to the floor. Mr. Monroe, please show Mr. Zeller to the weight room.
This is too funny. During Wednesday's Clippers-Bobcats game, Cody Zeller went slashing down the lane and took off for what looked like would become an awesome dunk. Instead, Zeller was hung by the rim and will be making highlight reels for all the wrong reasons. That bricked dunk was epic. What's almost even better is […]
God bless Cardboard Gerald for all of his hard work and dedication. His given name is Ben Swanson, and he truly is one of the finer young journalists in the basketball blogosphere, but I only really know this man for his blogging exploits in covering the Charlotte Hornets Bobcats under the name Cardboard Gerald. So […]The post Dear God, What In The World Was Cody Zeller Thinking...
MORE STORIES >>
Hornets News

Delivered to your inbox

You'll also receive Yardbarker's daily Top 10, featuring the best sports stories from around the web. Customize your newsletter to get articles on your favorite sports and teams. And the best part? It's free!