We've updated our Privacy Policy.
By continuing to use this site, you are agreeing to the new Privacy Policy.
Marquese Chriss and Dragan Bender have each started a number of games this season for the Phoenix Suns. But have either actually shown to be better in that role than the other? Suns fans could not be more critical of General Manager Ryan McDonough's 2016 NBA Draft selections as all...
Phoenix Suns fans have been waiting for Dragan Bender to become the team's future at power forward, but maybe center is the position he should be playing. In the Phoenix Suns' third game against the Denver Nuggets, Dragan Bender got his first start at center this season. Bender set...
Dragan Bender has been labeled a bust since day one. Considered a project since draft day, Bender has become victim to an impatient league. With numerous flashes of solid play and an abundance of potential to go along with it, Bender has the capability to become, and be, a quality...
LIKE WHAT YOU SEE?
GET THE DAILY NEWSLETTER: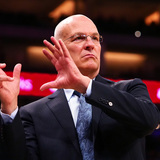 The Phoenix Suns had a perfect play lined up for the final 0.6 seconds of their game against the Memphis Grizzlies. Apparently it was one interim head coach Jay Triano had saved up for years.Here's a look at the play where Dragan Bender threw an inbound pass right next to the hoop, allowing Tyson Chandler to dunk it in for the win: Those final two points by Chandler gave Phoenix...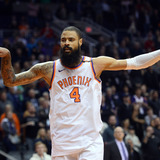 Suns big man Tyson Chandler turned back the clock on Tuesday and showed that he can still come up with big plays in clutch moments, even in improbable situations.The Suns found themselves tied at 97-97 with under one second remaining in Tuesday's game against the Grizzlies, and it sure looked like the game was headed for overtime.Chandler, however, had other plans.Suns forward Dragan...
The hype surrounding the former fourth overall selection of Dragan Bender might be entirely misplaced. However, there is no doubt that the kid has talent, the Suns just aren't exploiting it enough. The Suns are continually looking for another star player, specifically a shooter, who...
When Eric Bledsoe tweeted, "I don't want to be here anymore," shortly after the Phoenix Suns fired head coach Earl Watson, he almost certainly accelerated his inevitable trade. While many teams received speculative discussions, the Milwaukee Bucks kept coming up as a logical fit. In the rare case where theory matched reality, Bledsoe was indeed dealt to Milwaukee.The Bucks traded...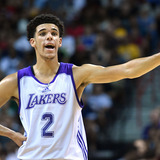 This weekend, I made a pilgrimage to Las Vegas for NBA Summer League. For years, Vegas has been the place where people come hoping to hit the jackpot. For some, that's robbing a casino with their ten friends. Or becoming a superstar by mind-freaking audiences with your rock n' roll magic. Or striking it rich counting cards at blackjack with your autistic savant brother, Raymond....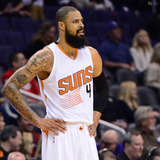 Phoenix Suns head coach Earl Watson is throwing cold water on the idea that Tyson Chandler will be traded to facilitate a second-half youth movement.Watson said on Thursday that the veteran seven-footer is "not going anywhere," per Spencer Davies of 16 Wins A Ring. The 34-year-old Chandler, who is in Year 2 of a four-year, $52 million contract, has fared quite well this season for...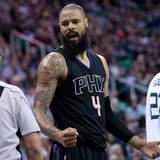 The Portland Trail Blazers have an interior defense problem, and the Phoenix Suns have an expendable veteran who might be able to help them out. According to a report by Marc Stein of ESPN over the weekend, the Blazers have been tracking Suns big man Tyson Chandler as a possible trade target. Chandler, 34, has enjoyed a productive 2016-17 campaign that has seen him post averages...
MORE STORIES >>
Suns News

Delivered to your inbox

You'll also receive Yardbarker's daily Top 10, featuring the best sports stories from around the web. Customize your newsletter to get articles on your favorite sports and teams. And the best part? It's free!