We've updated our Privacy Policy.
By continuing to use this site, you are agreeing to the new Privacy Policy.
Robert Griffin III is considered a trend setter. After being drafted with the second pick overall in the 2012 NFL Draft, the NFL changed their rule, allowing players to wear suffixes with their last names on the back of their jerseys. Then last season, Roger Mason, Jr. got the NBA to grant him the same privilege with the help of Miami Heat. Mason happened to have spent part of his...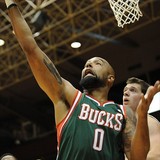 Drew Gooden (usable)csnwashington.com 32 year old Drew Gooden has been a major surprise for the Washington Wizards since he was signed to a ten day contract. In fact, Gooden has been playing so well that the Wizards first signed him to another 10 day contract and subsequently signed him for the rest of the season. In his eleven games with the Wizards Gooden is averaging 10 points...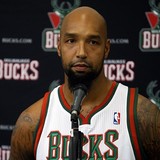 Drew Gooden's 'breakout' performance: worthy of an extended grace period? [original image via Abdullah's iOS] It took Drew Gooden three games and 16 minutes of burn to finally collect his first points as a member of DC's pro ball team, an open deep corner two via Al Harrington kick out pass (re-looping 6 second video […]The post Is Drew Good-enough for (at least) 240 more hours of...
LIKE WHAT YOU SEE?
GET THE DAILY NEWSLETTER:
Drew Gooden hasn't played in a game this season for the Milwaukee Bucks, so he has to get creative in order to keep himself entertained. Prior to Monday's Bucks game in Chicago, he offered two free tickets to the Twitter follower who sent him a picture of a Bulls jersey in a toilet. 18 minutes later, he had a winner. @drewgooden kirk hinrich twitter.com/Kruppsanity35/… — Zack Krupp...
After having checked out the Tar Heel that I thought would be the first of the four taken, even if he did "slip" a bit, Harrison Barnes and then the other sophomore from Carolina, who shocked me by being the second Heel picked, Kendall Marshall, it's time to move up to the junior of the quartet from Chapel Hill: power forward John Henson, who landed with the Milwaukee Bucks as the...
MORE STORIES >>
Bucks News

Delivered to your inbox

You'll also receive Yardbarker's daily Top 10, featuring the best sports stories from around the web. Customize your newsletter to get articles on your favorite sports and teams. And the best part? It's free!