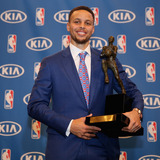 Naismith Basketball Hall of Famer Gary Payton became the latest former NBA player to question the true legitimacy of Stephen Curry being named the first-ever unanimous winner of the MVP award, arguing it is more "about era" than anything else. Payton suggested during a recent interview that the likes of Michael Jordan and Kareem Abdul-Jabbar, among others, probably deserved being...
I've got a real issue with the NBA Hall of Fame ceremonies that take place every year in September. For one, I don't think its presented very well. For two, I hate that the Hall of Fame is located in Springfield, Massachusetts. For three, why in hades is the enshrinement on the opening weekend of […]The post Starting Lineups: Because You Probably Missed Gary Payton's Hall Of Fame...
Gary Payton was an all-time great NBA player, but he was equally as good at trash talking. In the mid-90s when the Sonics and Bulls met in the Finals, there's a classic play where Payton whispers something in Michael Jordan's […]
MORE STORIES >>
NBA News

Delivered to your inbox

You'll also receive Yardbarker's daily Top 10, featuring the best sports stories from around the web. Customize your newsletter to get articles on your favorite sports and teams. And the best part? It's free!