We slowly cross off these early days of October eagerly waiting for the 29th when the Denver Nuggets open their 2014-15 season against the Detroit Pistons. To keep us occupied lets make predictions! Continuing our three-part season preview series for each NBA team, last week we broke down the Nuggets roster (Denver Nuggets season preview: Roster Breakdown). This week we take at look...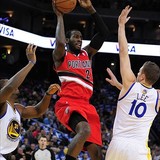 Next on our Green Target list, the young and promising, J.J. Hickson. He is an undersized power forward/center that has a lot of energy. Once thought to be "untradeable" when he was an up and coming young player playing next to LeBron James in Cleveland, has now been a player that can't find himself with one team. He actually averaged a double-double last year for the Portland Trail...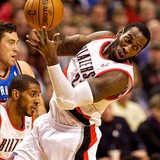 To trade J.J. Hickson or not, that is the $7.6 million dollar question that the Portland Trail Blazers face as today's NBA trade deadline approaches. As of noon today, NBA teams will essentially be stuck with the rosters they have until free agency and the draft this summer. The NBA rumor mill has been relatively quiet heading into this year's deadline, with Atlanta's Josh Smith...
For the sake of the bench J.J. Hickson has been outstanding as the starting center for the Portland Trail Blazers this season. He is averaging 10.8 points, 11.3 rebounds and has exceeded the expectations of those who thought his 6'9" frame would be a hindrance when it came to his success on the low block. So why exactly would the team move him aside for rookie center Meyers Leonard...
We've learned via Oregon Live this week that the starting lineup for the 2012-13 Trail Blazers is: Damian Lillard, Wesley Matthews, Nicolas Batum, LaMarcus Aldridge and J.J. Hickson. The season is almost here. Quote: "J.J. is the incumbent," Stotts said. "I'm not saying he's going to be the starting center opening night. We'll have to see how training camp...
BEEFING UP
Sam Amico twitter Celtics having conversations with Kings about JJ Hickson, source says. Hickson is a name we haven't heard before connected with the Celtics. He's best known as the guy the Cavs refused to part with for Amar'e Stoudemire, which then led to LeBron James leaving Cleveland because the Cavs couldn't get another star to pair with him. Hickson is very athletic, but...
MORE STORIES >>
Cavaliers News

Delivered to your inbox

You'll also receive Yardbarker's daily Top 10, featuring the best sports stories from around the web. Customize your newsletter to get articles on your favorite sports and teams. And the best part? It's free!