We've updated our Privacy Policy.
By continuing to use this site, you are agreeing to the new Privacy Policy.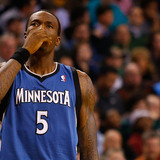 By Darryn Albert That's former NBA All-Star Josh Howard to you! As if the news of Greg Oden finding a new basketball home and the Lakers trying to coax Yi Jianlian into coming back to his old one wasn't enough, it looks like the ghosts of 2007 have returned to haunt us even further this offseason. According to a report on Thursday by Dwain Price of the Fort Worth-Star Telegram...
Despite the best efforts by the San Antonio Spurs to bring veteran forward Josh Howard to San Antonio for a visit, and likely a recruiting spiel, the Jazz could be close to bringing Howard back into the fold with the Jazz. Five years ago, this would have been heart breaking news for Spurs fans. But after fans chimed in against the Spurs recruiting the former all-star, whose...
The last time we heard about Josh Howard and the San Antonio Spurs was on July 1, 2012. At that time, none of the Spurs' free agents had been re-signed yet, and it was looking like Danny Green might have actually been looking at other options at that point, so the move would have made sense. Now, once again according to Yahoo! Sports' Marc Spears, Howard will be visiting with...
LIKE WHAT YOU SEE?
GET THE DAILY NEWSLETTER:
Could the San Antonio Spurs' hunt for a small forward be over? Possibly if free agent Josh Howard accepts their offer.According to The Washington Post's Michael Lee via Twitter, the Spurs have made an offer to Howard. Source said Josh Howard has received an offer from San Antonio. JH could meet with Utah this week. #wizards remain in play. As the report states, the Wizards and...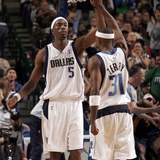 Josh Howard may have struggled with a left knee injury the past two seasons in Washington, but he has attracted considerable attention with the free agent signing period set to begin on Friday. The Wizards and "five to six" playoff contenders have expressed interest in Howard, according to a source with knowledge of the situation. Another person close to Howard confirmed that Boston...
Josh Howard is moving closer to making his long-awaited season debut after spending the past few months rehabilitating from left knee surgery. Howard has been cautious about his return -- and had a slight setback a few weeks ago -- but he said on Tuesday that he would likely be back on the court at a home game in the next two weeks. "It's about to be that time," Howard said at the...
MORE STORIES >>
Mavericks News

Delivered to your inbox

You'll also receive Yardbarker's daily Top 10, featuring the best sports stories from around the web. Customize your newsletter to get articles on your favorite sports and teams. And the best part? It's free!