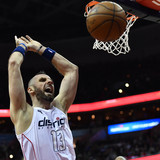 LeBron James is known for his offensive prowess, but he's still a great two-way player, and is a much better rim protector than he gets credit for.Opposing players have been known to adjust their shot when attempting to score near the rim if James is in the vicinity, and understandably so.Wizards big man Marcin Gortat, however, elected to go right at James during Thursday's game...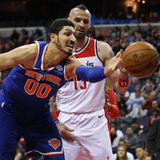 Marcin Gortat has been working through some issues with teammate John Wall, but it was an opponent who delivered a forceful blow during Wednesday's game.It happened in the Wizards-Knicks matchup at Madison Square Garden, when Kanter was backing Gortat down near the basket. The Knicks center raised his forearm and struck Gortat right in the chest — sending the Wizards big man to the...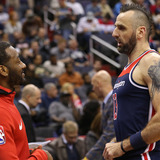 Wizards teammates John Wall and Marcin Gortat had a private in-person meeting last week to discuss where they stood with one another and clear the air, league sources tell Chris Haynes of ESPN. The meeting came on the heels of apparent public friction between the two players.The meeting, which was requested by both players, didn't last long, according to Haynes. Sources tell ESPN...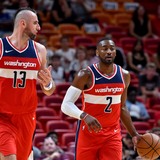 There's no drama like NBA drama. But the Washington Wizards can ill-afford distractions at this point. That's why both John Wall and Marcin Gortat would meet last week to clear the air. But it's not so simple."Washington Wizards teammates John Wall and Marcin Gortat met privately last week to confront each other about where they stood after Gortat's tweet two weeks ago that many...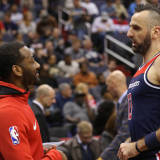 John Wall and teammate Marcin Gortat met last week to discuss the friction between the two, according to a report.ESPN's Chris Haynes reported on Tuesday night that Wall and Gortat had a brief meeting to clear the air. He says both players wanted to meet and that their meeting was brief.Wall became upset with Gortat for seemingly taking a jab at him over Twitter following a win over...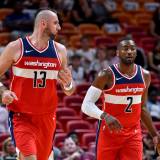 John Wall needs to be needed.But while he recovers (he's out for at least another 5-6 weeks), the Wizards are rolling. After all, they have won five of their last six games. But tonight they travel to Boston to take on the Celtics. However, it's their win over Toronto six days ago that's causing drama.Bradley Beal would score 27 points in the fourth quarter. And ultimately, the Wizards...
John Wall is at odds with teammate Marcin Gortat over a tweet sent last week.After the Wizards pulled off a big win last week over the Toronto Raptors, Gortat tweeted about the team's "unbelievable" win. But what was truly interesting is that he made sure to specifically say it was a great "team" win. He actually put quotes around "team" as if to emphasize that point.Wall responded...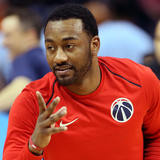 Wizards star point guard John Wall is currently sidelined as he attempts to recover from a procedure on his knee, but that hasn't stopped him from voicing his opinion.Wall threw some shade at teammate Marcin Gortat on Tuesday in an interview with ESPN's Michael Smith that aired on "SC6," as he responded to a recent tweet that the Wizards big man posted. Here's what Wall had to say...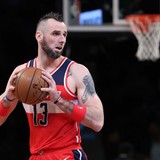 The Wizards have explored the possibility of moving their starting center, according to ESPN's Brian Windhorst, who hears from multiple sources that the club has engaged in trade discussions involving Marcin Gortat.Windhorst reports that several teams have shown interest in Gortat, adding that the Wizards are looking to improve their roster in the short term without taking on additional...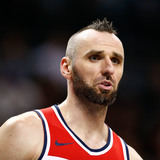 Although he has been a member of the Wizards since 2013, Marcin Gortat's NBA career began with another Southeast team, as he played for the Magic from 2007 to 2011. Speaking to Josh Robbins of the Orlando Sentinel, Gortat expressed a desire to eventually finish his playing career where it started."I would love to join the team for maybe two or three months, or maybe half a season...
MORE STORIES >>
Wizards News

Delivered to your inbox

You'll also receive Yardbarker's daily Top 10, featuring the best sports stories from around the web. Customize your newsletter to get articles on your favorite sports and teams. And the best part? It's free!