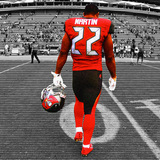 On Tuesday, the Tampa Bay Buccaneers released running back Doug Martin after six seasons with the team. Coming out of Boise State, Martin was drafted 31st overall by the Bucs in the 2012 NFL Draft and was a revelation for the team in his rookie season. He ran for 1,454 yards along with 49 receptions and 472 yards through the air, giving him 1,926 yards from scrimmage in his first...
One might expect there to be some bad blood between Melvin Hunt and Michael Malone, given how Malone overtook Hunt late in the race for the Denver Nuggets head coaching job. Surprisingly, there is none, as Hunt says he and Malone are still close friends. Nevertheless, Hunt still thinks he was the right choice for the Nuggets job. Nate Timmons of Denver Stiffs has more: "'I have incredible...
  According to ESPN.com's Marc Stein, Denver Nuggets former lead assistant and recent interim head coach Melvin Hunt is officially on his way to Dallas. Mavs coach Rick Carlisle confirms earlier ESPN report that former Nuggets coach Melvin Hunt is joining Dallas staff as lead assistant — Marc Stein (@ESPNSteinLine) June 19, 2015 This marks the end of a fantastic five-year run...
With the Denver Nuggets filling the last vacant head coach position in the NBA with the hiring of Michael Malone, what's next for the former front-runner and former Denver interim head coach Melvin Hunt? According to ESPN senior writer Marc Stein, Hunt is closing in on an agreement to join the Dallas Mavericks under head coach Rick Carisle as his top assistant. Hunt is reportedly...
It appears Melvin Hunt, long thought to be the favorite to be the next head coach of the Denver Nuggets, has some competition. According to ESPN, the Nuggets will bring in Mike Malone for a second interview."Sources told ESPN.com that Malone, who had his first interview with the Nuggets last week before the start of the NBA Finals, has solidified himself as a top candidate for the...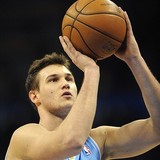 According to Sportando.com's E. Carchia, Melvin Hunt has the full support of Danilo Gallinari as potential head coach of the Denver Nuggets. In a recent interview with Carchia, Gallinari was quoted saying: "Our goal next season will be to make the playoffs. I hope Melvin Hunt will be our coach next season. He knows basketball very well, also European basketball, something that...
  According to multimedia outlet contributor Jared Zwerling, Melvin Hunt is the current frontrunner to land as new head coach of the Denver Nuggets. Via Zwerling's Twitter account: Also from a source: Melvin Hunt is currently the front-runner for the Nuggets' coaching job. Mike D'Antoni has not interviewed with Denver. — Jared Zwerling (@JaredZwerling) May 28, 2015 The Nuggets...
The Denver Nuggets will wrap-up their season tonight against the Golden State Warriors in what is Melvin Hunt's final audition for the permanent job. Calling the Nuggets season disappointing is an understatement. It's been a year filled with player revolts, a head coach telling the media his team has quit, atrocious play on the floor and a midseason coaching change. Plainly, this...
When Denver Nuggets tabbed Melvin Hunt as the team's interim head coach after firing Brian Shaw, it was obvious that he was in for a huge challenge. And he's performed, leading the team to six wins in its first eight games after taking over the job. But a seemingly strange decision to rest players has...Read More The post Nuggets coach discussing tanking talk, mentions owner's dog...
Melvin Hunt should be the next head coach of the Denver Nuggets. That's right; give the man the job. As in, right now. Take that "interim" precursor and toss it in the trash. If the last nine games haven't been the best "interview" I've ever witnessed, I don't know what would be. Hunt has been given an audition and he's simply nailed it on every front. There's no way any other...
MORE STORIES >>
NBA News

Delivered to your inbox

You'll also receive Yardbarker's daily Top 10, featuring the best sports stories from around the web. Customize your newsletter to get articles on your favorite sports and teams. And the best part? It's free!