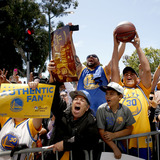 Golden State Warriors owners Joe Lacob and Peter Guber footed the entire bill for their team's championship parade on Thursday, and it did not come cheap.According to Connor Letourneau of the San Francisco Chronicle, Lacob and Guber were put on the hook for $4 million after the event. Good for them. Many owners wouldn't do this, especially when they're moving to San Francisco in...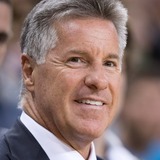 When the clock struck zero in the fourth quarter Monday night in Portland, it was readily apparent that the Blazers were out-classed by their Western Conference counterparts.The Golden State Warriors held a 28-point first quarter lead in a game that reminded most of us what it was like to play NBA2K with cheat codes.When all was said and done, Golden State handed Portland a 25-point...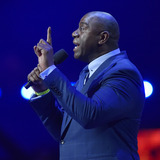 With Magic Johnson working for the Los Angeles Lakers, all seems right with the world. But it nearly didn't happen. In fact, Magic was given the chance to work in the front office of at least three other teams.Included that group is the Golden State Warriors. According to Magic, Joe Lacob and Peter Guber approached him about joining their group as co-owner of the Warriors."When Joe...
Golden State Warriors and Los Angeles Dodgers co-owner Peter Guber witnessed the first NBA championship for his Warriors in 40 years last week. His other team is not too far behind in its title drought -- 27 years. Despite the fact that Dodgers fans haven't been waiting quite as long for a championship, Guber indicated an even greater reaction from Dodgers fans for a World Series...
Golden State Warriors co-owner Peter Guber said he didn't intend to list "hoodish" as language he planned to learn in response to an email that detailed the team having five international players on its roster, Yahoo Sports reports. Warriors director of media relations Raymond Ridder forwarded an NBA email to team employees that announced a record 101 international players from 37...
MORE STORIES >>
NBA News

Delivered to your inbox

You'll also receive Yardbarker's daily Top 10, featuring the best sports stories from around the web. Customize your newsletter to get articles on your favorite sports and teams. And the best part? It's free!