We've updated our Privacy Policy.
By continuing to use this site, you are agreeing to the new Privacy Policy.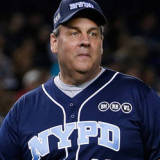 Front Five: The top stories that shaped both sports & politics this week "As for the governor's future, he appreciates the interest and concern about his next employment from his friends in the media, but he is not concerned at all about it." - Chris Christie spokesman Brian MurrayDallas Cowboys fan and New Jersey governor Chris Christie will take to the airwaves for two days...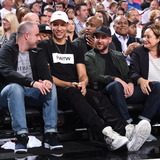 Ben Simmons will almost certainly be one of the first two players taken in June's NBA Draft, though at least one former executive sees some issues. Rex Chapman, who spent time in the NBA as a player and an executive, had some interesting comments regarding Simmons' maturity. "He's a great talent, great passer and knows the game," Chapman said, via John Reid of Nola.com. "But...
Former Kentucky basketball star Rex Chapman is free to travel to the Final Four in Indianapolis because he has not been charged for allegedly stealing and selling $14,000 of merchandise from an Apple store. Chapman was caught on video in September stealing the goods from a store in Scottsdale, Ariz., and was accused of selling...Read More
LIKE WHAT YOU SEE?
GET THE DAILY NEWSLETTER:
Former NBA player and Kentucky star Rex Chapman was arrested last week and charged with nine counts of organized retail theft and five counts of trafficking in stolen property after he reportedly stole $14,000 worth of goods from an Apple store. A video that surfaced this week allegedly shows Chapman in action. [Click here to see the surveillance video.] The footage, which was...
Former NBA player and Kentucky star Rex Chapman was arrested on Friday and accused of stealing $14,000 worth of goods from an Apple store in Scottsdale, according to reports. Chapman, who earned just over $22 million during his playing career, is accused of stealing the products on seven different occasions. He allegedly would pretend like […]
In the 'Where Are they Now?' category, former Washington Bullets guard Rex Chapman was arrested in Arizona on charges of theft after allegedly stealing $14,000 worth of merchandise from an Apple store. MORE: Chapman is alleged to have swiped items through Apples' self-checkout & then sell them at a pawn shop for cash. pic.twitter.com/0kO6HJkJRI — AZ Family (@azfamily) September...
Ask a Wizards fan what they think of being in playoff contention this late in the season and you'll likely be met with heavily guarded optimism. For a franchise that has been on the outside of postseason contention for the past six years, it makes sense. Washington invented basketball futility. Basketball futility makes for amusing […]The post Wayback Wizards: The sprawling Cap Centre...
MORE STORIES >>
NBA News

Delivered to your inbox

You'll also receive Yardbarker's daily Top 10, featuring the best sports stories from around the web. Customize your newsletter to get articles on your favorite sports and teams. And the best part? It's free!