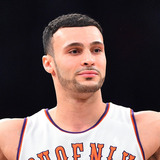 The NBA playoffs will soon be upon us. There are only 20 or so games (depending on the team) left in the regular season, and a whole lot still to be settled. After the dust clears, the only matter left will be the postseason. Simple, right?This list will focus on the players who will, quietly, play a huge role in the coming weeks. Not the stars — you already know about them and nobody...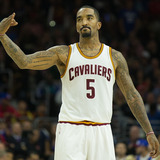 Cavaliers shooting guard J.R. Smith made a defensive miscue in Tuesday night's game against the Bucks that even James Harden would laugh at. Smith, in the middle of a play, walked off the court to give Jason Terry a quick hug. He probably shouldn't have, because his man, Tony Snell, took advantage of it. Snell started in the corner, and after a quick cut to the hoop, he received...
Mike Dunleavy took a bit of a pay cut to sign with the Bulls in 2013 and play in Tom Thibodeau's system. He was OK with that. Dunleavy wanted to be a part of a winning organization and his style of play is one that every winning team needs. Dunleavy was brought to Chicago to replace Marco Belinelli who replaced Kyle Korver as the consistent sharpshooter who could spread the floor...
Before we get into it, yes, that is a weaksauce reference to the 1994 film starring Gérard Depardieu and a very young Katherine Heigl. Couldn't help myself. Moving on, during the New York Knicks 83-78 win over the Chicago Bulls, Tony Snell, with the team down by twenty in the third quarter no less, made […]The post My Father the Hero? Dad saves daughter from getting trucked by Chicago...
MORE STORIES >>
Bucks News

Delivered to your inbox

You'll also receive Yardbarker's daily Top 10, featuring the best sports stories from around the web. Customize your newsletter to get articles on your favorite sports and teams. And the best part? It's free!