We've updated our Privacy Policy.
By continuing to use this site, you are agreeing to the new Privacy Policy.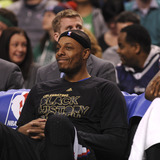 Paul Pierce has a recommendation for what the Boston Celtics should do with the pick that he helped them land.In an appearance on ESPN's "The Jump" on Wednesday, the 10-time All-Star expressed his belief that the Celtics should trade the No. 1 overall pick."You trade this pick, because he [Markelle Fultz] cannot help the Celtics get over the top," said Pierce, per Chris Walder of...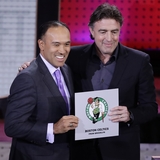 There has been some talk that the Boston Celtics may look to move the No. 1 pick in the NBA Draft for a superstar, but owner Wyc Grousbeck downplayed that notion after the team won the lottery.Grousbeck noted that "it makes a lot of sense" to keep the pick instead of dealing it for an established superstar, citing salary as one reason. The Celtics had apparently floated the pick...
The Boston Celtics are on the verge of clinching the No. 1 seed in the Eastern Conference, but owner Wyc Grousbeck isn't exactly exuding much confidence.In an appearance on WEEI's Ordway, Merloni & Fauria on Wednesday, Grousbeck expressed skepticism that his team could compete with the rival Cleveland Cavaliers in the playoffs."I don't think we're as good as Cleveland," said...
LIKE WHAT YOU SEE?
GET THE DAILY NEWSLETTER: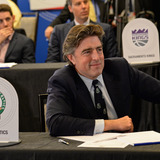 The Boston Celtics were engaged in a lot of trade discussions leading up to the NBA Draft, but nothing came of it – apparently because the offers they received were insulting. Celtics co-owner Wyc Grousbeck came away very unimpressed with the offers the team received, which he said is why the team held on to most of their picks, including No. 3 overall. "We did not sniff a trade...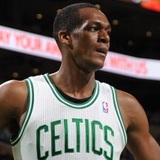 First things first, I'm the realest I think the title makes it sound a little worse than it really was.That said, the title is completely accurate. On last night's "Sports Final Overtime" on WBZ, Grousbeck was asked about Rajon Rondo as part of an interview which was meant to preview the upcoming season. While Grousbeck said some positive things -- calling Rondo a great player, a...
At the Basketball Hall of Fame ceremonies on Friday, Celtics co-owner Wyc Grousbeck spoke to The Boston Globe about the team's future, and returning the franchise to prominence.  Via Gary Washburn, Grousbeck said:I said we'd try for fireworks and we tried. I'm reasonably content that first of all we tried as hard as we could and second of all we added some good pieces. But we have...
Tonight the Celtics' fate for decades to come will be determined by the random bouncing of ping-pong balls.  OK, that's probably a little over-dramatic.  Or is it?  Via Baxter Holmes of The Boston Globe, here are the thoughts of C's co-owner Wyc Grousbeck:When we see what pick it is, the phones will start ringing and we'll start answering the phones. That KG deal might be once in...
Not every NBA franchise is lucky to have an ownership group that seems to get it. Boston can count itself as one of the few that does. Over the last few weeks, owner Wyc Grousbeck has been vocal and optimistic about the future of the Celtics. From trading shots with Kings owner Vivek Ranadive about who exactly is tanking, to declaring interest in Andrew Wiggins, Grousbeck is doing...
Celtics owner Wyc Grousbeck was on WEEI this afternoon talking about Ray Allen's defection to Miami: "I was utterly surprised," Grousbeck said. "I knew there was some emotion involved. I respect Ray and I always will. … He's been a great Celtic and we'll never forget that. "I was surprised, I wasn't utterly shocked. Let's face it: He was not necessarily going to start. He was not...
MORE STORIES >>
NBA News

Delivered to your inbox

You'll also receive Yardbarker's daily Top 10, featuring the best sports stories from around the web. Customize your newsletter to get articles on your favorite sports and teams. And the best part? It's free!