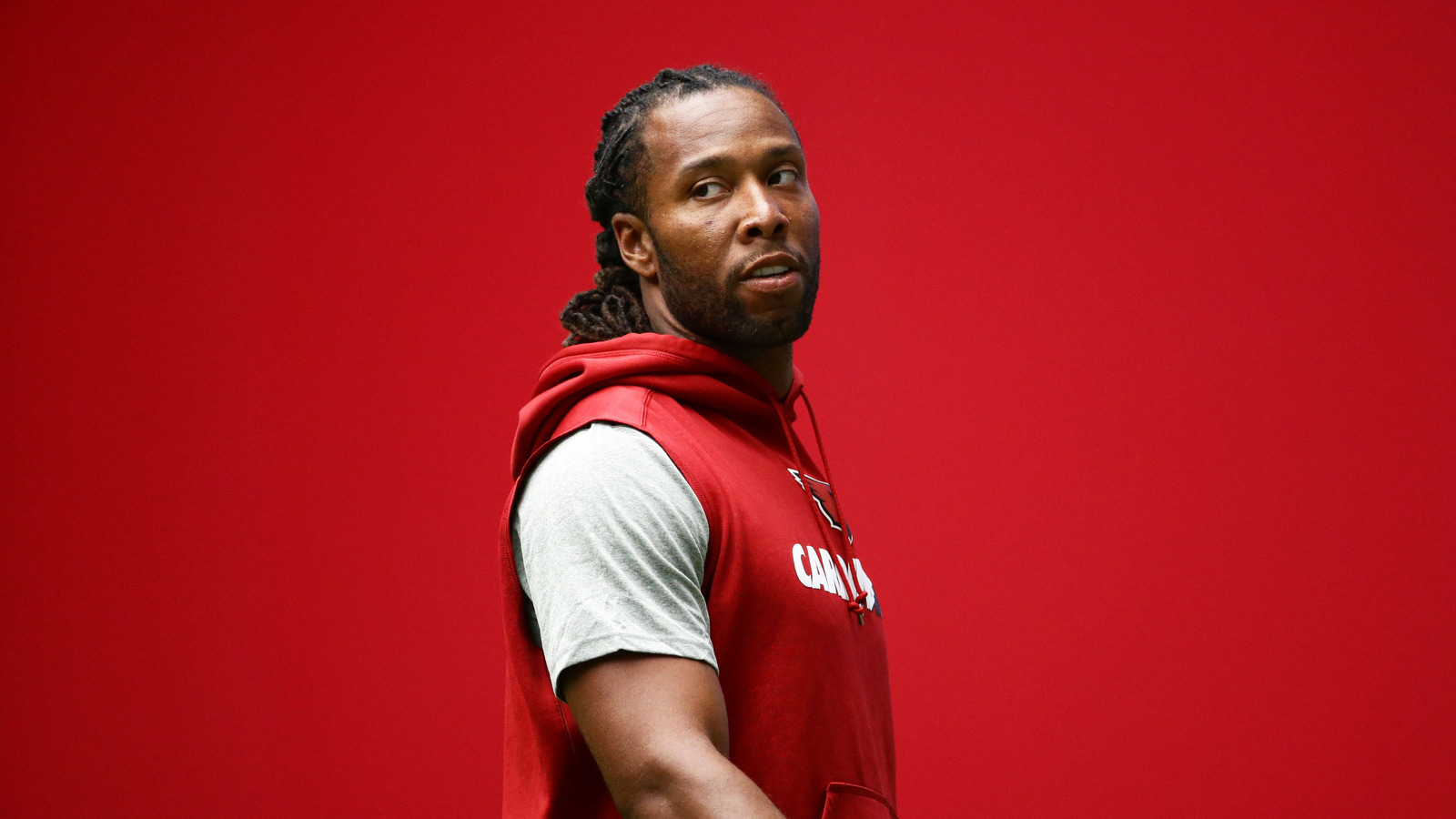 Jul 21, 2017; Glendale, AZ, USA; Arizona Cardinals wide receiver Larry Fitzgerald looks on during the run test on reporting day of training camp at the University of Phoenix Stadium. 
Rob Schumacher/azcentral sports via USA TODAY NETWORK
Whether they are Super Bowl contenders or historical laughingstocks, each and every team in the NFL has at least one established player. The established players could come in the form of a future Hall of Fame receiver on the back end of his career such as in Arizona, or a veteran running back on a struggling Jets squad.
From a star receiver in Atlanta who might challenge for career records at some point to multiple veteran tight ends going for records, here is a look at the most established player on each NFL team's roster heading into the 2017 season.
Arizona Cardinals: Larry Fitzgerald, wide receiver
Potentially entering his final NFL season, Fitzgerald is already the franchise's all-time leader in receptions (1,125), receiving yards (14,389) and touchdowns (104). In fact, the Cardinals receiver with the second-most in franchise history is Anquan Boldin with 586. That's simply amazing. Even at 33, Fitzgerald continues to prove his worth. He caught a career-best 107 passes last season.
Atlanta Falcons: Julio Jones, wide receiver
We could have gone with Matt Ryan here, but that would have been too easy. What Jones has done in his first six seasons in the NFL is amazing. He's averaging 83 catches for 1,268 yards and seven touchdowns per year. If Jones keeps at this pace and plays 12 seasons, he would finish with the fourth-most receiving yards in NFL history. With a large sample size, it's definitely not out of the equation to believe that Jones can go down as one of the game's all-time greats.
Baltimore Ravens: Terrell Suggs, EDGE
Six Pro Bowl appearances and 114.5 sacks in 14 seasons. To say that Suggs has been consistently dominant throughout his career would be an understatement. He's led six top-10 defenses, has racked up double-digit sacks six times, and is still going strong at 34 years old. Last year saw Suggs add another eight sacks to his resume. It came just one season after he missed all but one game to an Achilles injury. That's legendary stuff right there.
Buffalo Bills: Kyle Williams, defensive tackle
One of the most underrated players in the game, Williams' unassuming career has been placed on the back burner simply because he plays in western New York. But let's be clear: he's been among the game's best defensive tackles over the past 11 seasons. During that span, Williams has proven his worth against both the run and getting to the quarterback. It's led to five Pro Bowl appearances over the past seven seasons, as the NFL has finally taken note of this dominance.
Carolina Panthers: Cam Newton, quarterback
No one else on the Panthers' roster can lay claim to being named NFL MVP. Only one other quarterback in franchise history can say he's led the team to a Super Bowl. And despite the fact that Newton is just 28 years old, one could conclude he's the best player in Panthers franchise history.
That's aided by the fact that Newton enters the 2017 season having compiled 184 total touchdowns. Jake Delhomme ranks second in franchise history with 123 total touchdowns. Whew.
Chicago Bears: Josh Sitton, guard
Sitton angered a lot of cheeseheads after moving on from Green Bay following eight seasons last summer, though it should be noted that he was released by the Packers. In his first season with Chicago, Sitton earned the fourth Pro Bowl appearance of the career. He was also one of the primary reasons why then rookie Jordan Howard put up over 1,600 total yards en route to earning a trip to the Pro Bowl himself.
Cincinnati Bengals: Geno Atkins, defensive tackle
Five Pro Bowl appearances in seven seasons. A two-time First-Team All-Pro. If Atkins continues at this clip, he's destined for the Hall of Fame. Atkins has put up 20 sacks from the defensive tackle position over the past two seasons. He is among the best pass-rushing interior defensive linemen in the game. And in this, he's the most-established Bengals player heading into a make-or-break season for many on the team.
Cleveland Browns: Joe Thomas, offensive tackle
One of the best to ever play the game. It's sad that Thomas has had to exist on a disastrous Browns team over the course of his career, but his individual accomplishments are nearly unmatched. Here's a guy that has earned a trip to the Pro Bowl in each of his first 10 NFL seasons. During that very same span, Thomas has been named First-Team All-Pro a whopping six times. It's not unrealistic to believe that Thomas will ultimately go down as the greatest left tackle to ever play the game.
Dallas Cowboys: Jason Witten, tight end
Already the Cowboys' career leader in receptions, Witten has a chance to break the franchise's all-time mark in receiving yards and receiving touchdowns this season. In fact, he's 17 yards and nine touchdowns away from eclipsing each mark. The future Hall of Famer has earned 10 trips to the Pro Bowl and has hit the 70-reception plateau seven times in his career. He will go down as one of the best pass-catching tight ends in the history of the game.
Denver Broncos: Von Miller, EDGE
Super Bowl MVP. Potentially looking at a 25-plus sack season at some point soon. There's nothing we can say that actually describes how dominant Miller has been on the field since being selected No. 2 overall back in 2011. In six NFL seasons, this former Texas A&M All-American has recorded 73.5 sacks and earned five Pro Bowl trips. If he continues at this pace, Miller will challenge Bruce Smith's record of 200 career sacks.
Detroit Lions: Haloti Ngata, defensive tackle
Right there with Ray Lewis as the face of a Baltimore Ravens defense that led the team to a Super Bowl title back in 2012, Ngata is still going strong with the Lions. Since joining the team, he's started 27 games in two seasons and remains one of the best run-stuffing defensive tackles in the game. A five-time Pro Bowler, an argument could be made that Ngata's career should conclude with him being enshrined in the Hall of Fame.
Green Bay Packers: Aaron Rodgers, quarterback
Speaking of future Hall of Famers, Rodgers has showed himself to be one of the greatest quarterbacks of all-time since taking over for Brett Favre as the Packers' starter back in 2008. In nine seasons as a starter, Rodgers has thrown 297 touchdowns compared to just 72 interceptions. It has him on the brink of making NFL history. With a career 65.1 completion percentage, Rodgers is also one of the most-accurate quarterbacks in the grand history of the game. Should he continue at this pace, it would not be a surprise to see Rodgers eclipse 600 touchdown passes in his career. That would also be a league record.
Houston Texans: J.J. Watt, defensive end
Before injuries derailed his 2016 campaign after just three games, Watt was coming off the best four-year span for a defensive player in the history of the game. From 2012-15, this former Wisconsin standout recorded 69 sacks, 41 passes defended and an absurd 15 forced fumbles. His domination was readily apparent play after play on the field. And still only 28 years old, Watt has time to continue building on his resume should he remain healthy.
Indianapolis Colts: Frank Gore, running back
Consistently good over a long period of time. Gore is a complete outlier in comparison to other top-end running backs in the modern history of the game. While others star for a short span (five or six years), Gore has been doing it for more than a decade. Here's a guy that's put up 1,200-plus total yards in 11 consecutive seasons. He also boasts more career rushing yards than Hall of Famers Gale Sayers and Terrell Davis combined. Entering his 13th season, Gore remains the Colts' starting running back. That in and of itself is absolutely amazing.
Jacksonville Jaguars: Calais Campbell 
Vastly underrated during his nine-year career with the Arizona Cardinals, the 30-year-old Campbell signed a lucrative deal to be a veteran presence on an otherwise young Jaguars defense. Though, that's not going to be his only role. Campbell has recorded 56.5 sacks throughout his career and remains one of the better run-stuffing edge rushers in the game. Don't look for that to change when he suits up for the Jaguars for the first time this season.
Kansas City Chiefs: Alex Smith, quarterback
Speaking of underrated, what Smith has done since a disastrous start to his career in San Francisco is nothing short of extraordinary. Here's a guy that has put up 106 touchdowns compared to just 38 touchdowns over the past six seasons. That very same span has seen him complete over 66 percent of his passes while leading his teams to a 60-25-1 mark. Smith isn't a Hall of Fame quarterback. He's also unlikely to remain in Kansas City beyond the 2017 season, but the level of success he's had cannot be questioned.
Los Angeles Chargers: Antonio Gates, tight end
With one more touchdown, Gates will break Tony Gonzalez's all-time mark for tight ends. That just goes to show us how good this former college basketball player has been over such a long time. Entering his 15th season with the Chargers, Gates has recorded 897 receptions for 11,192 yards and a whopping 111 touchdowns. He's also caught 66 percent of the passes thrown in his direction and has earned eight trips to the Pro Bowl. Canton bound, indeed.
Los Angeles Rams: Andrew Whitworth, offensive tackle
Los Angeles set out to improve its offensive line in front of young quarterback Jared Goff. In doing so, it added one of the most-consistent pass-protecting left tackles in the game. In 11 seasons with the Bengals, Whitworth started 164 games and earned three trips to the Pro Bowl. He was also an anchor on an offensive line that saw Andy Dalton sacked an average of just 27 times over the past four seasons.
Miami Dolphins: Cam Wake, defensive end
A former undrafted free agent from Penn State, Wake has turned that into a potentially Hall of Fame-worthy career. The 35-year-old defensive end has recorded 10-plus sacks four times in his career and boasts a total off 81.5 career quarterback take downs. A five-time Pro Bowler, Wake is still going strong. Heck, this dude recorded 11.5 sacks for a surprising Dolphins team last season. Talk about aging like fine wine.
Minnesota Vikings: Terence Newman, cornerback
Speaking of aging well, fellow Vikings cornerback Mackensie Alexander was nine years old when Newman made his NFL debut with the Dallas Cowboys back in 2003. While he's earned only two Pro Bowl appearances throughout his career, the 38-year-old Newman remains a starter and the top cover guy for an elite-level Vikings defense. At a time when older cornerbacks tend to make the transition to safety, Newman continues to stand out at his original position. It really is something to behold.
New England Patriots: Tom Brady, quarterback
Duh. Okay, blurb is done. Really, there's just not much we can say to describe what Brady has done since taking over for an injured Drew Bledsoe as the Patriots' starter back in 2011. Five Lombardi Trophies. Seven conference championships. A total of 11 Pro Bowl appearances. And even at the tender age of 40, Brady remains one of the best quarterbacks in the game. Last season saw him put up 28 touchdowns compared to two interceptions en route to leading the Pats to yet another Super Bowl title.
Not only will Brady go down as one of the most-successful quarterbacks in league history, he'll still likely be dominating in his mid 40s. If that were to happen, there's no reason to believe this first ballot Hall of Famer won't surpass the 600-touchdown plateau. Let that sink in for a second.
New Orleans Saints: Drew Brees, quarterback
Speaking of stats, Brees is redefining the history books as we know them. This former second-round pick has put up five 5,000-plus yard seasons. To put that into perspective, only one quarterback accomplished this feat in league history prior to 2002.
All said, the 38-year-old 10-time Pro Bowler has tallied 66,111 passing yards in his career. That's just 5,800 less than Peyton Manning's all-time record. With 465 career passing touchdowns, Brees is also on the verge of eclipsing Manning for that mark. Add in a Super Bowl title for good measure, and Brees will go down as one of the greatest signal callers to ever suit up.
New York Giants: Eli Manning, quarterback
Statistically, Manning isn't up there with some of the game's best quarterbacks. But that's completely thrown out the window considering he has handed Tom Brady his only two Super Bowl losses — ultimately outplaying Brady in each game. That's some big time stuff right there. And it isn't like Manning hasn't put up the stats either. He has 320 career passing touchdowns to go with over 48,000 passing yards. In previous eras, that would put him in some elite company.
New York Jets: Matt Forte, running back
Forte surely is slowing down. In his first season with the hapless Jets, this two-time Pro Bowler averaged just 3.7 yards per run. Though, he was able to cross the 1,000 total yard plateau for the ninth consecutive season to start his career. All said, Forte has put up 13,794 total yards an 72 touchdowns in his career. Both numbers are better than the recently inducted Terrell Davis. And while Forte heads into the 2017 season on the worst team in the NFL, his career accomplishments speak for themselves.
Oakland Raiders: Marshawn Lynch, running back
Following a one-year retirement, Lynch returns to his hometown of Oakland in an attempt to bring the city a Super Bowl title before the Raiders depart for Las Vegas. He does so as the most-accomplished player on the roster. We don't know how big of a role Lynch will play in 2017, but his track record speaks for itself. Here's a guy that put up over 7,600 total yards and 65 touchdowns in four seasons with Seattle. From 2011-14, he put up 1,400-plus total yards and 12-plus touchdowns each season. Those are Hall of Fame-worthy numbers right there.
Philadelphia Eagles: Jason Peters, offensive tackle
It's interesting that Philadelphia sought to move on from Peters during the spring. After all, he's proven himself to be the most-dominant offensive tackle east of Cleveland over the past several seasons. The 35-year-old former un-drafted free agent from Arkansas has earned a Pro Bowl trip in each of the past nine seasons he's actually suited up in. Dating back to his days with the Buffalo Bills, Peters has also started each of the past 148 games he's played in. And he remains a dominant force for young quarterback Carson Wentz. That's magnified by the fact that Wentz went down just 33 times as a rookie last season.
Pittsburgh Steelers: Ben Roethlisberger, quarterback
Two Super Bowl titles. Another Super Bowl appearance. Big Ben has taken the talent he was given and turned it into a Hall of Fame-worthy career. Despite seeing himself battling injuries throughout his career, Roethlisberger enters the 2017 season having crossed the 300-touchdown plateau. He's also led his Steelers to nine playoff appearances and two Lombardi's in his 13 seasons as the team's starter. Even if Big Ben were to call it quits after this season, he will go down as the greatest quarterback in franchise history. And it's not really that close.
San Francisco 49ers: Joe Staley, offensive tackle
One of the most underrated players in the modern history of the game, Staley has spent the past decade with San Francisco — starting all 143 games in which he has appeared. His career started on a horrible five-win team and continued during the successful Jim Harbaugh tenure. After that, Staley somehow avoided the 49ers' purge of veterans and is now the team's longest-tenured player. Oh, did we mention he's also a five-time Pro Bowl performer? Not bad for a young man from Rockford, Michigan.
Seattle Seahawks: Earl Thomas, safety
The best pure cover safety in the modern history of the NFL, Thomas is the most-important member of the Legion of Boom in Seattle. That was only magnified in 2016 when Thomas went down with a season-ending injury 11 games in. Seattle's defense took a major step back, ultimately leading to the team yielding 36 points to the Atlanta Falcons in the NFC Divisional Playoffs. When on the field, Thomas has proven himself to be Hall of Fame caliber. He's earned five Pro Bowl appearances and three First-Team All-Pro honors. The former top-10 pick has also intercepted 23 passes throughout his career.
Tampa Bay Buccaneers: DeSean Jackson, wide receiver
The deep threat Jameis Winston needed dearly to go with Mike Evans on the outside. Jackson signed with Tampa this past March after three largely successful seasons in Washington that saw him put up two 1,000-yard performances. That came on the heels of this highly enigmatic former Pro Bowler putting up over 6,100 yards in six seasons with Philadelphia. Still only 30 years old, there's definitely a lot of room to grow here.
Tennessee Titans: Delanie Walker, tight end
Since leaving San Francisco in free agency and becoming a starter for Tennessee in 2013, Walker has been one of the most consistently good tight ends in the game. During this four-year span, the former college receiver has put up 3,349 yards to go with 23 touchdowns. He's also one of the best blocking tight ends in the game, as evidenced by Tennessee's dominating running game last season. Even on a team with playoff aspirations, this former sixth-round pick is its most-established player.
Washington Redskins: Trent Williams, offensive tackle
With a Pro Bowl appearance in five consecutive seasons heading into 2017, Williams has proven himself to be right up there with Jason Peters and Joe Thomas as the best left tackle in the game. Most figured he was a sure-fire All-Pro performer when Washington took the Oklahoma product No. 4 overall back in 2010, but he's exceeded even those expectations. A future Hall of Famer, Williams is just 29 years old and has a lot of tremendous seasons in front of him.
PLAYERS:
Anquan Boldin
,
Terrell Suggs
,
Jake Delhomme
,
Jason Witten
,
Von Miller
,
Bruce Smith
,
Haloti Ngata
,
Aaron Rodgers
,
Brett Favre
,
J.J. Watt
,
Frank Gore
,
Gale Sayers
,
Alex Smith
,
Antonio Gates
,
Andrew Whitworth
,
Jared Goff
,
Terence Newman
,
Mackensie Alexander
,
Tom Brady
,
Drew Brees
,
Peyton Manning
,
Eli Manning
,
Marshawn Lynch
,
Jason Peters
,
Carson Wentz
,
Ben Roethlisberger
,
Joe Staley
,
Jim Harbaugh
,
Earl Thomas
,
DeSean Jackson
,
Jameis Winston
,
Mike Evans
,
Delanie Walker
,
Trent Williams
TEAMS:
Baltimore Ravens
,
Dallas Cowboys
,
Denver Broncos
,
Detroit Lions
,
Green Bay Packers
,
Houston Texans
,
Indianapolis Colts
,
Kansas City Chiefs
,
Los Angeles Chargers
,
Cincinnati Bengals
,
Los Angeles Rams
,
Minnesota Vikings
,
New England Patriots
,
New Orleans Saints
,
New York Giants
,
Oakland Raiders
,
Philadelphia Eagles
,
Pittsburgh Steelers
,
San Francisco 49ers
,
Seattle Seahawks
,
Tampa Bay Buccaneers
,
Tennessee Titans
,
Washington Redskins
,
Arizona Cardinals
,
Atlanta Falcons
,
Buffalo Bills
,
Carolina Panthers
,
Chicago Bears
,
Cleveland Browns
,
Jacksonville Jaguars
,
Miami Dolphins
,
New York Jets
,
Morehead State Eagles
,
Michigan Wolverines
MORE FROM YARDBARKER
NFL News

Delivered to your inbox

You'll also receive Yardbarker's daily Top 10, featuring the best sports stories from around the web. Customize your newsletter to get articles on your favorite sports and teams. And the best part? It's free!