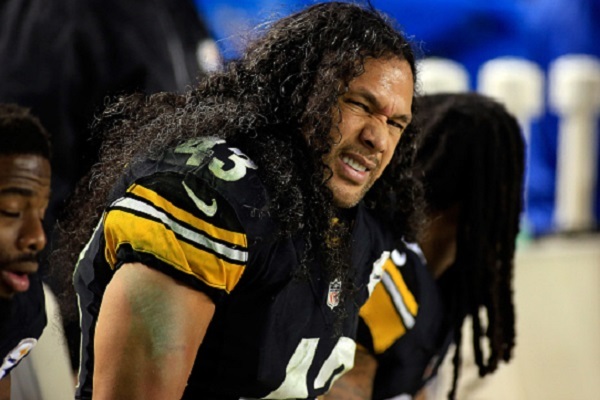 Troy Polamalu should consider hanging up the cleats.
Justin K. Aller/Getty Images Sport
By Sean Tomlinson
Acknowledging when it is time to end a career is difficult for any football player. A successful career often means at least a decade of preparing both mentally and physically each week and going through the grind of each offseason for one day: Sunday.
There's a routine that becomes muscle memory, and it's easy to understand why there could be a feeling of overwhelming blankness when a player finally walks away.
In some small way us mere mortals can relate.
Let's assume you really, really love whatever it is you do for a living. You're good at it, you like your co-workers, and "Beer Fridays" are the best. But then suddenly at the still young age of 35 you're told you can't do that thing anymore.
That's the reality faced by the aging, declining player, and one many veterans face as seasons come to a close.
In the coming weeks and months, several once-marquee players will declare their careers over. Though this doesn't always happen, the ideal goal is to do that before a performance freefall truly begins, and before the final memory fans have is far removed from peak days.
With that in mind, these three formerly dominant players should hang up the cleats now.
Reggie Wayne (wide receiver, Indianapolis Colts)
Reggie Wayne onced formed a frightening tandem with Marvin Harrison in Indianapolis that led to a championship in 2006. He's logged six 1,200-plus yard seasons, and his 14,345 career receiving yards currently ranks Wayne eighth on the all-time list.
And he likely won't advance any higher because this should be the end.
There's still hope the Colts could send Wayne off in style with another ring, though winning a playoff game in Denver is a mighty task. At this point, Wayne is often a fourth receiving option behind T.Y. Hilton, rookie Donte Moncrief, and whatever tight end is the focus on a particular afternoon.
Wayne has intermittently shown flashes of his old self this season, with an 80-yard reception in Week 17, and overall three 90-plus yard games. But he finished with only 779 yards, his lowest total during a 16-game year since 2002.
The end could be out of Wayne's control too. He's a pending free agent, and franchise loyalty only extends so far with a rapidly declining receiver who has little left to give.
Troy Polamalu (safety, Pittsburgh Steelers)
There's a similar tale of aging and gradual decay with Troy Polamalu, who has shown freakish speed and instincts throughout a Hall of Fame career.
The 2014 season was only Polamalu's third without an interception. What's even more troubling is the 114.8 passer rating he allowed when in coverage, according to Pro Football Focus. He'll turn 34 years old this offseason and is now the grizzled veteran on an increasingly young team.
When the Steelers were eliminated from the playoffs this past Saturday, Polamalu didn't rule out retirement. He'll take his time with a decision, as he should, but there's a good chance he doesn't let the fading continue much further.
Larry Foote (linebacker, Arizona Cardinals)
Larry Foote had a resurgent year while becoming the latest Arizona Cardinals veteran reclamation project. He excelled against the run, finishing with 40 defensive stops and was second on the team with 84 tackles.
But he was also thoroughly and repeatedly roasted in coverage. That weakness became glaring late in the season when the Cardinals were desperately clinging to their NFC West division lead. Foote's spiraling speed left him trailing far behind opposing tight ends, and he gave up 634 yards in coverage along with a passer rating of 123.1, according to Pro Football Focus.
Foote will turn 35 this offeason and is a pending free agent. He'll have a home in Arizona waiting for him if he decides to return, and a head coach in Bruce Arians who will welcome him back warmly while valuing his run defense.
At this point, however, Foote will have a one-dimensional role and could eventually become a liability.
MORE FROM YARDBARKER
NFL News

Delivered to your inbox

You'll also receive Yardbarker's daily Top 10, featuring the best sports stories from around the web. Customize your newsletter to get articles on your favorite sports and teams. And the best part? It's free!