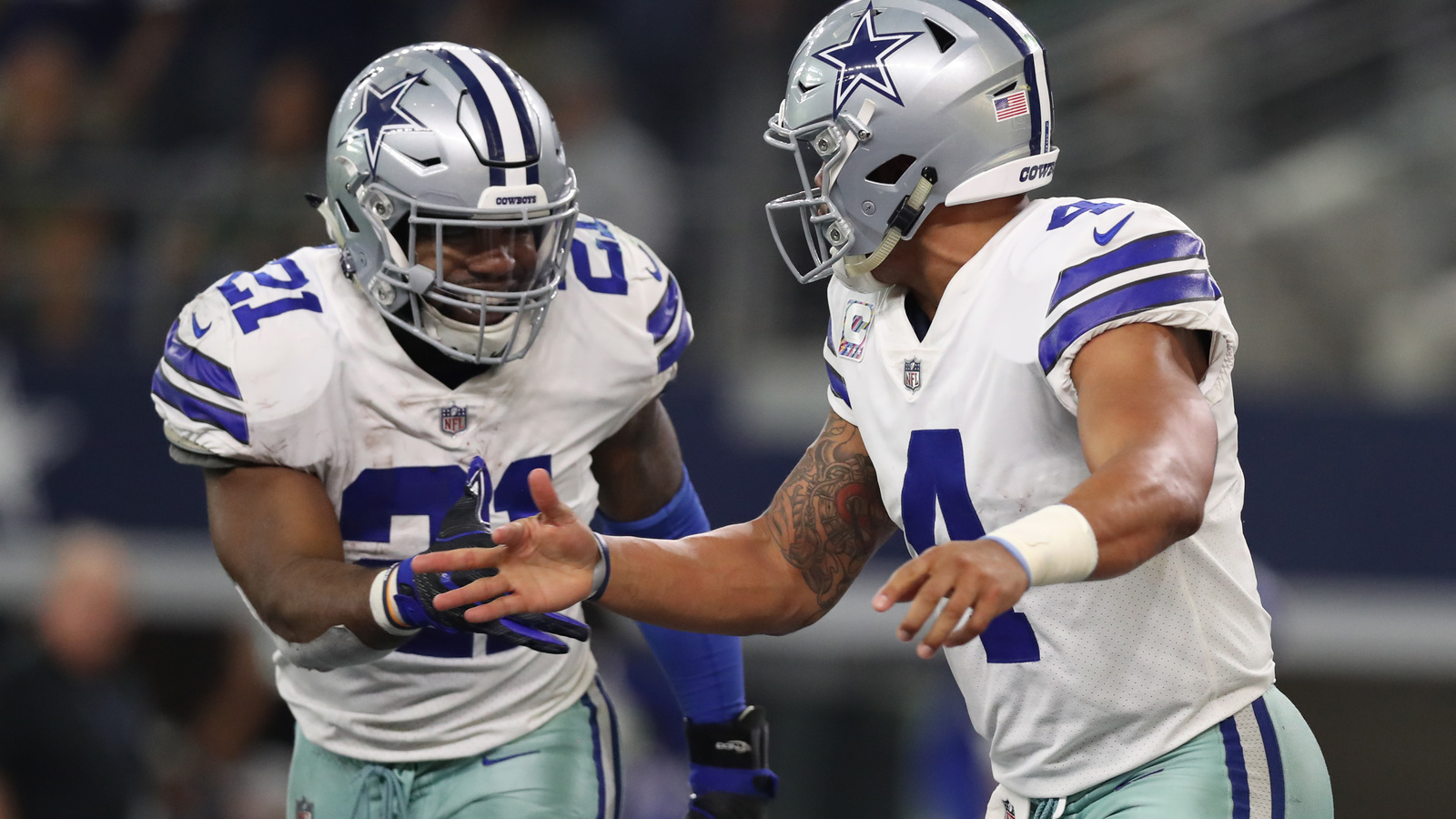 A dominating win over the hapless 49ers could help right the Cowboys' ship.
Matthew Emmons-USA TODAY Sports
It's that time again, football fans. Are you ready for some NFL action? Moreover, how about some week-by-week predictions? We hope the answer to both those questions is a resounding Yes, of course.
Last week was a rough one (again) for our own Harv Aronson, as he went 6-8—which saw his overall record slip to 47-44. It's got to get easier, right?
This week, I'm feeling like the Oakland Raiders—losers of our in a row. Maybe worse, like the San Francisco 49ers or Cleveland Browns—each have yet to win a game this season. That's because my weekly predictions continue to slide.
I'm coming off missing on eight of 14 games this past weekend.
It's been very difficult for anyone to correctly pick winners this year. But you know what they say—the show must go on! So as mid-season approaches, we have Week 7 beginning tomorrow night. This time, with a huge AFC West showdown.
Kansas City at Oakland: The Raiders' entire season could be on the line in this game. If Oakland loses, it might force them out of the race for the division title. Unless, of course, they get really hot down the stretch. For the Chiefs, they were brought back down to Earth last Sunday—losing at home to the Steelers.
But it's now or never for Oakland.
Final: Raiders 30, Chiefs 27
Tampa Bay at Buffalo: The Bills were expected to be competitive this season. But, they weren't supposed to challenge the Patriots for the division title. But here we are in Week 7, and the Bills are 3-2. And, just a win behind New England. The Bucs are coming unraveled; playing in upstate New York does not bode well for them.
Final: Bills 31, Tampa Bay 21
Carolina at Chicago: Don't tread lightly in Carolina playing on the road facing the Bears. Chicago can surprise anyone—just ask Pittsburgh or Baltimore. Even though the Bears are 2-4—two games behind Green Bay and Minnesota—they are not out of it yet. Especially now, with Aaron Rodgers sidelined.
All of the sudden, the Panthers are just a game ahead of the Saints and Falcons—with Atlanta facing a Super Bowl rematch this weekend.
Final: Bears 23, Panthers 20
Tennessee at Cleveland: You would like to think the Browns would win a game this season. Especially this one while playing at home. Sorry.
Final: Titans 37, Browns 17
New Orleans at Green Bay: Next up…Brett Hundley. With Aaron Rodgers down for the count, in steps the third-year quarterback from UCLA. Last season he played in four games—making just 10 passes, completing only two and throwing a pick. Should the Packers fan base be worried?
You bet.
Final: Saints 27, Packers 17
Jacksonville at Indianapolis: The Jaguars are having a weird season. They blow out Houston, then get blown out by the Titans a week later. They come back with a destruction of Baltimore in London, then lose to the Jets. That's followed up with a blowout of the Steelers, then a loss at home.
Get the pattern? Win-loss-win-loss-win-loss. Assuming the pattern continues, they beat the Luck-less Colts on the road. Right?
Final: Jaguars 17, Colts 10
Arizona at Los Angeles Rams: Aside from the last place 49ers, the NFC West is a tight race. This game is actually a first place game, as it turns out. With a Cardinals win, they would tie the Rams for first. Meanwhile, Seattle is 3-2. And with a win on Sunday, they would have sole possession of first
If Los Angeles loses this game, that is.
The Rams appear to be for real. And despite the Cards' win last week, they won't reach two consecutive victories.
Final: Rams 27, Cardinals 21
New York Jets at Miami: There probably isn't anyone anywhere that would have thought the New York Jets would be 3-3 after six games. But that is where the Green and White are now. And if they can defeat the Dolphins on Sunday, they will push the 'Phins into last place—depending on how Buffalo fairs.
New York should stay right where they are at come Sunday evening, however.
Final: Dolphins 25, Jets 14
Baltimore at Minnesota: You may be wondering how many more games Joe Flacco will be the starter if his play doesn't improve. Ryan Mallet is waiting in the wings just in case. That's because through six games, Flacco has been sacked 12 times, thrown eight interceptions, and has just 1,003 yards passing along with only four touchdowns passing.
The Ravens aren't dead yet (3-3) but their offense really has to pick up the pace.
Final: Vikings 33, Ravens 20
Dallas at San Francisco: It won't be this week that the 49ers are victorious. The Cowboys are in desperate need of a win. Plus, Ezekiel Elliott has received at least a one-week stay of execution of his suspension. Look out for Dallas.
Final: Cowboys 35, San Francisco 9
Seattle at New York Giants: With their first win coming in an upset over Denver, I think the Giants are figuring out their issues a little. Moreover, the 'Hawks have yet to play their best game.
Final: Giants 17, Seahawks 14
Cincinnati at Pittsburgh: Almost like the team that beat them badly (Jacksonville), the Steelers have not been consistent. Now is the time to lay the foot on the gas pedal. Steelers fans are hoping that the Martavis Bryant trade talk issue won't be yet another distraction.
Final: Steelers 31, Bengals 17
Denver at Los Angeles Chargers: The other AFC West showdown takes place in Los Angeles, where attendance has been poor—sometimes by default—because the Chargers' temporary stadium holds less than 30,000. That said, the 'Bolts have been in every game thus far. And, they have even pulled off two in a row.
We're going to make it three.
Final: Chargers 31, Broncos 21
Atlanta at New England: A Super Bowl rematch; what more could we ask for? Both teams are struggling as of late, and I highly doubt that the Falcons will build another huge only to blow it. I'd like to think that the Dirty Birds get a taste of revenge.
But, Tom Brady and his offense will most likely be much better than the previous game.
Final: Patriots 34, Falcons 31
Washington at Philadelphia: The week concludes with the streaking Eagles taking on a team coming off a bye. If the Redskins were playing at home, they might have a chance.
Instead, we're in Philly for this one. I believe the Eagles will keep the hot hand.
Final: Eagles 28, Redskins 17
So what do you think? Is this the week Harv turns it around for real? And for more, be sure to check out his website here.
PLAYERS:
Aaron Rodgers
,
Tom Brady
TEAMS:
Green Bay Packers
,
New England Patriots
,
Oakland Raiders
,
Cleveland Browns
,
Chicago Bears
,
Jacksonville Jaguars
,
Baltimore Ravens
,
Los Angeles Rams
,
New York Jets
,
New York Giants
,
Los Angeles Chargers
MORE FROM YARDBARKER
NFL News

Delivered to your inbox

You'll also receive Yardbarker's daily Top 10, featuring the best sports stories from around the web. Customize your newsletter to get articles on your favorite sports and teams. And the best part? It's free!