Anquan Boldin expressed some interest in playing somewhere else last year, but the Bills squatted on his rights for fear he'd sign with a division rival. Now, he's free to resume playing if he wants to. Per the league's daily transaction wire, the Bills released the veteran wide receiver from the reserve-retired list. Boldin signed [more]
If wide receiver Anquan Boldin wants to resume his playing career, his team options opened up Wednesday after the Bills released him from the retired list.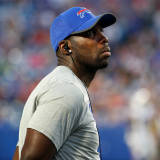 Anquan Boldin is sort of retired. We say sort of because last year after signing with the Buffalo Bills he did retire but said he'd come out of retirement to play for the New England Patriots. Now, if he chooses to play again, he can following Buffalo's decision to release him. Boldin originally told the Bills he was retiring to pursue goals that were "bigger than football." But...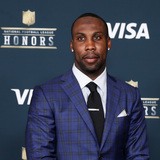 Anquan Boldin's retirement might not last too long. Mere weeks after announcing he is stepping away from the game, the former 1,000-yard receiver could very well latch on with the defending champion New England Patriots.According to Ben Volin of the Boston Globe, there is mutual interest between Boldin and the Patriots."In light of Edelman's injury, a league source said the Patriots...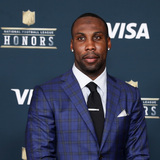 Anquan Boldin thanked fans of the teams he played for in a social media post as he prepares to head into retirement.After 14 seasons in the NFL, Boldin declared his intention to retire last weekend after a brief period of time with the Bills. In a statement, he talked about wanting to devote more time to doing humanitarian work.Here's the note Boldin posted on Twitter: During his...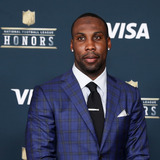 The Anquan Boldin era in Buffalo was about as short-lived as you can imagine, as the veteran receiver told the Bills Sunday he's retiring. Boldin signed a free-agent contract in Buffalo about two weeks ago, and it didn't take long for the Bills to trade away Sammy Watkins afterwards.The savvy veteran caught just one pass for five yards on three targets Thursday night against the...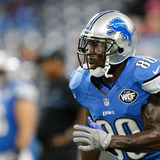 Free agent wide receiver Anquan Boldin isn't quite ready to step away from the game of football just yet, but he'd ideally like to play closer to home and for a potential Super Bowl contender.With training camps nearing, interest in Boldin has also begun to heat up. And as of Monday, 'a number of teams' have inquired with the veteran and at least one has invited him in for a workout...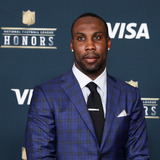 Anquan Boldin remains a free agent, and his geographical preference may be part of the reason why.The 36-year-old wide receiver prefers to play close to his home in Florida, the Detroit Free Press reported Thursday.Boldin played for the Lions last season, catching 67 passes for 584 yards and eight touchdowns. In April, Boldin confirmed his intention to play in his 15th pro season...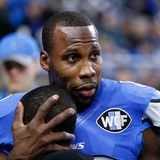 Veteran wide receiver Anquan Boldin has reportedly decided to return to the NFL for his 15th season as a pro and is now a free agent heading into 2017. Originally a second-round pick out of Florida State, Boldin spent his first seven seasons as a member of the Arizona Cardinals. He then was traded to the Baltimore Ravens in 2010 and ended up winning a Super Bowl with them after the...
Anquan Boldin is still getting it done in the NFL at age 36, but he's unsure if he will return for another season.The 14-year NFL veteran said on Friday that he does not know if he will play next season, according to Detroit Lions reporter Tim Twentyman. Boldin spent the first seven seasons of his career with the Cardinals, then three with both the Ravens and 49ers. He played last...
MORE STORIES >>
NFL News

Delivered to your inbox

You'll also receive Yardbarker's daily Top 10, featuring the best sports stories from around the web. Customize your newsletter to get articles on your favorite sports and teams. And the best part? It's free!