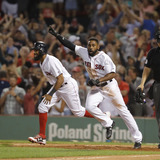 Want more news first thing in the day? Sign up for the Yardbarker Morning Bark newsletter here.Good morning and welcome to the YB Box Score, what we're reading while quietly clapping for the BoSox win over the Cards.Happy birthday today to Rudy Gay, Dustin Pedroia, Dee Brown, Antwaan Randle El, Christian Laettner and Jon Gruden. On this day in 1982 the Dodgers and Cubs started a...
The latest cautionary tale from a former player regarding the NFL and concussions is somewhat of a false alarm. Earlier in the week, a report surfaced saying that former Steelers wide receiver Antwaan Randle El wouldn't play football if he could do it all over again. However, Randle El said Wednesday on ESPN's "Dan Patrick Show" that those comments were "overblown." Antwaan...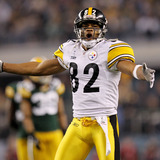 Former NFL wide receiver Antwaan Randle El retired in 2012 after last playing during the 2010 season. Like many others who have come and gone from professional football, the game took a serious toll on his body. Unfortunately, the lingering effects are so bad that Randle El wishes he could turn back the clock and choose a different career path. Randle El, who played five seasons...
Former Pittsburgh Steelers wide receiver Antwaan Randle El is back home in Indiana for his two-day youth football camp that he is running this weekend at his alma mater at Thornton High School. The Times of Northwest Indiana caught up with Randle El to ask him about his decision to retire this weekend from the NFL and his plans moving forward. Randle El said that he decided to...
Former Steelers wide out and return man Antwaan Randle El will not be joining the Hall of Fame as he enters retirement. He will not be remembered for having huge games in terms of yardage and return yardage and frankly, when his name comes up, thoughts of his touchdown pass to Hines Ward in Super Bowl XL is what you remember. It's hard to imagine a slot receiver and return man being...
Former Pittsburgh Steelers wide receiver Antwaan Randle El will retire from the NFL later this month, according to his brother. Randle El played nine seasons in the NFL, five with the Steelers and four with the Washington Redskins. Curtis Randle El, reportedly sent an email to the Times of Northwest Indiana announcing that his brother will make his retirement official on July 14...
The cap casualties continued on Thursday as veteran wide receiver Antwaan Randle El has been released. Randle El started 23 games in different two stints with the Steelers after being drafted in the second round by Pittsburgh in the 2002 NFL Draft. After spending the last 4 seasons in Washington, Randle El re-signed back with the Steelers last offseason. The deal was for 3 years...
Not too much has been made about the knee surgery that Steelers veteran wide receiver Antwaan Randle El had back in April, but it certainly could signal that his spot on the Steelers 2011 53 man roster is in jeopardy. El chose to have his surgery after the lockout started, according to the reports, and [...]Antwaan Randle El Likely To Lose Out In The Steelers Numbers Game is a post...
MORE STORIES >>
Redskins News

Delivered to your inbox

You'll also receive Yardbarker's daily Top 10, featuring the best sports stories from around the web. Customize your newsletter to get articles on your favorite sports and teams. And the best part? It's free!