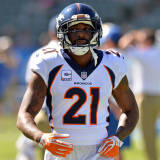 The Denver Broncos moved on quickly from cornerback Aqib Talib, and he's not thrilled about it.The longtime Denver cornerback, since traded to the Los Angeles Rams, reacted rather quickly to the announcement that the Broncos had given his No. 21 to new acquisition Trumaine Brock — and he wasn't pleased. Come on, Aqib. It's not going to be retired, so anybody has a right to wear it...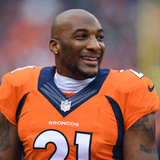 The Los Angeles Rams have made some major moves on defense this offseason, and they may not be done just yet. Like the team's fans, newly-acquired defensive back Aqib Talib seems excited about the possibility of the Rams adding Ndamukong Suh.Jordan Schultz of Yahoo Sports reported on Monday that Suh is scheduled to visit with the Rams. That prompted a reaction from Talib on Twitter...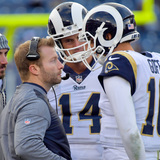 After adding cornerbacks Marcus Peters and Aqib Talib, the Los Angeles Rams secondary is going to be scary good in 2018.Speaking of scared, head coach Sean McVay seems just a bit nervous that his new corners are going to pick off his quarterbacks in practice. What are the chances of this? Probably pretty good given Peters' and Talib's experience. Talib has 34 career interceptions...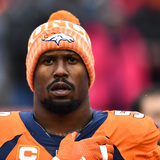 The nickname for the Denver Broncos secondary since 2014 has been the "No Fly Zone." But linebacker Von Miller says the No Fly Zone has been "disbanded" since the departure of cornerback Aqib Talib. Miller said it is time to move on an come up with something else. Talib signed a six-year deal with Broncos in 2014, which would have taken him through the 2019 season. But that came...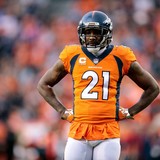 The cornerback trade market has been shockingly active across the NFL this offseason, and apparently Aqib Talib had a significant impact on how it has played out.The Broncos agreed to trade Talib to the Rams this week, but apparently that was not the original plan in Denver. ESPN's Adam Schefter reports that the Broncos and 49ers had agreed to the framework of a deal, but Talib nixed...
After four seasons playing with the Denver Broncos, cornerback Aqib Talib was traded to the Los Angeles Rams. It was not a surprising move considering talks of trading Talib had been going on since the end of the 2017 season.On his way to a new adventure, Talib posted this heartfelt goodbye to the Broncos organization. Talib was a big-time contributor to the Broncos defense, recording...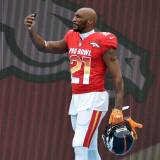 Aqib Talib is heading to Los Angeles.Talib was traded by the Denver Broncos to the Los Angeles Rams on Thursday, NFL Media's Ian Rapoport and James Palmer reported. ESPN's Adam Schefter says the Rams are expected to send Denver a 5th-round pick in return.The Broncos had been shopping Talib in trade talks because the 32-year-old cornerback is set to count $11 million against the salary...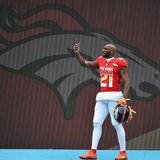 The Los Angeles Rams have Marcus Peters. Today, they would sign former Green Bay DB Sam Shields. But now, they are acquiring Aqib Talib from the Denver Broncos. If they keep Peters' behavior in check (which won't be an issue) and Sam Shields stays healthy? My goodness. The Rams are already coming off an 11-5 season with an NFC West title. But now they have Talib? Good luck to Seattle...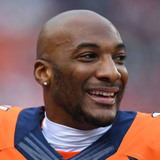 The Denver Broncos are likely to move five-time Pro Bowl cornerback Aqib Talib at some point here soon. A previous report had suggested that Denver engaged in trade discussions with the San Francisco 49ers involving Talib. Though, the corner's preference is to be released, ultimately to sign with his former New England Patriots squad.Now, according to Mike Klis of 9 News in Denver...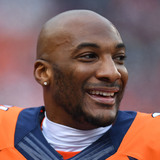 The Broncos and 49ers have discussed a trade that would have sent cornerback Aqib Talib to San Francisco, according to Dianna Marie Russini of ESPN.com (on Twitter). However, that doesn't look likely to go down at this time. Meanwhile, Talib's preference is to be released so that he can sign with a team of his choosing and his top choice is the Patriots, Russini hears.  Talib has...
MORE STORIES >>
Broncos News

Delivered to your inbox

You'll also receive Yardbarker's daily Top 10, featuring the best sports stories from around the web. Customize your newsletter to get articles on your favorite sports and teams. And the best part? It's free!