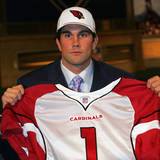 Quarterback is the most important position on the football field, but finding the right quarterback in the NFL Draft is an inexact science. Here's the last quarterback drafted in the first round by all 32 teams.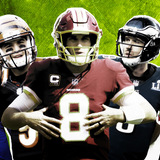 It is hard to believe that it's been over three weeks since Alex Smith was dealt to Washington, setting the quarterback carousel spinning. No wheeling and dealing frenzy ensued, and the sports world has been left with a whole lot of time for prognostication, which the sports world invariably loves to do.The next predicted domino to fall is Kirk Cousins, but his decision won't come...
Eli Manning and the New York Giants are rolling early against the Philadelphia Eagles in Week 15. The veteran has thrown two touchdown passes in the first half, one of which was a beauty to Sterling Shepard to put the Giants up 20-7. These touchdowns remarkably give his entire family 1,000 regular-season passing touchdowns.The two touchdowns Sunday gave Eli Manning 336 total regular...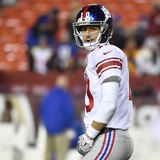 Eli Manning may not have a future with the New York Giants beyond the 2017 season, and many have speculated that he would be a perfect fit for a team like the Jacksonville Jaguars. However, that assumes the 36-year-old quarterback still wants to play football.Manning's father, Archie, told Ian Rapoport of NFL Network that the Giants' decision to bench Manning "flat broke (Eli's)...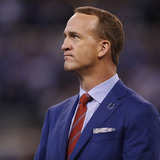 Peyton Manning has chosen not to comment publicly on the decision the New York Giants made to bench his younger brother Eli for the remainder of the season, and it sounds like that is for the best.In a brief interview with TMZ this week, Archie Manning — the father of Peyton and Eli and a former NFL quarterback himself — was asked how Peyton feels about the situation with Eli."You...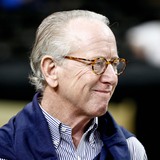 In major breaking news Tuesday, New York Giants quarterback Eli Manning got benched in lieu of Geno Smith. Manning handled the situation with class, but his father Archie said his son is very saddened. "This breaks his heart," Archie said, per Gary Myers of New York Daily News. "And that's okay. It's supposed to." "It's football. It's life." "Eli is not bitter," he said. "Just hurt...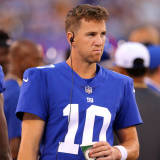 The New York Giants decision to bench Eli Manning came as a shocker to many, but apparently Archie Manning isn't too surprised.Archie, who is Eli's father and a former NFL quarterback, put the benching decision into context and recognized it wasn't a shock given the Giants' poor record. If the Giants were going to start Davis Webb rather than Geno Smith, then the move would be somewhat...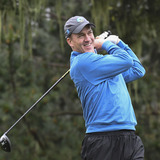 The Miami Dolphins were desperate for quarterback help when Ryan Tannehill went down with a knee injury late last season, and they apparently thought there was an outside chance they could convince Peyton Manning to embark on one more Super Bowl quest.In an interview with the Times-Picayune on Friday, Archie Manning revealed that he witnessed a text message conversation between his...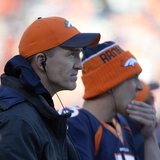 Archie Manning revealed some interesting information Thursday about his famous son's foot injury. Apparently Peyton Manning's foot has been bothering him since before training camp. Most of us who cover the NFL for a living were stunned at just how bad Manning played this year, even long before any talk of injuries cropped up. Even now, with just three games left in the season,...
After starting the season 0-6, the Giants impressively rebounded, temporarily righting the ship with a four-game winning streak. The Giants then struggled, losing two of three. A big win over division rival Washington Redskins was sandwiched between a heartbreaking loss to the Dallas Cowboys and a 37-14 blowout loss to the San Diego Chargers last […]The post Archie Manning says Eli...
MORE STORIES >>
NFL News

Delivered to your inbox

You'll also receive Yardbarker's daily Top 10, featuring the best sports stories from around the web. Customize your newsletter to get articles on your favorite sports and teams. And the best part? It's free!