We've updated our Privacy Policy.
By continuing to use this site, you are agreeing to the new Privacy Policy.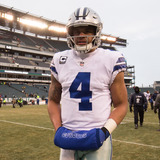 Pressure accompanies every player that competes at the highest level, but some NFL stars will enter the upcoming 2018 NFL season with almost crushing pressure to succeed.A certain duo in Dallas is among them, as are two quarterbacks who just set the new market with brand new mega-deals. A new duo of defenders make this list after their new team made bold moves to land them, too.Whether...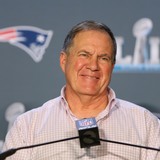 Bill Belichick proved that age is just a number at Ohio State's Pro Day on Thursday.The 65-year-old head coach showed that he can still move fairly well, as he ran through a position drill to show its participants how he wanted it done.Belichick got low and beat up on a few tackling dummies as he shuffled his feet and moved laterally, which you can watch below. He's now moving up...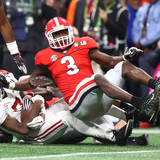 A Georgia linebacker managed to pull off an incredible feat at his Pro Day on Wednesday.It happened when Roquan Smith was participating in a pass-rushing drill at the University of Georgia's Pro Day, with Patriots head coach Bill Belichick watching intently alongside him. Smith lunged forward and destroyed the tackling dummy — even managing to nearly knock down the person holding...
LIKE WHAT YOU SEE?
GET THE DAILY NEWSLETTER:
After losing multiple key players last week, Bill Belichick and the Patriots finally made some moves of their own over the weekend, adding 5 players via free agency and trades. We're these the right moves for the Patriots? Did Bill Belichick give up too much? And how will the new guys fit in? Alex Barth and Mike Alongi discuss on this CLNS Media Patriots Roundtable. For more Patriots...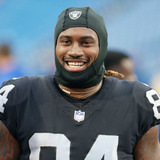 The Raiders will be parting ways with Cordarrelle Patterson and sending the former All-Pro kick returner to the Patriots, Vic Tafur of The Athletic tweets. Barstool Sports first reported the deal.The AFC teams are expected to exchange late-round picks in this deal, Field Yates of ESPN.com tweets. Ian Rapoport of NFL.com confirms as such, reporting (via Twitter) the Raiders will receive...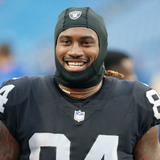 Cordarrelle Patterson is still just 27 years old and is a two-time All-Pro (2013, 2016). But the Oakland Raiders are sending him to the New England Patriots. But as for the compensation? It's not much. Over five seasons, Patterson has just 163 receptions for 1,625 yards and 7 touchdowns. But that's not all. He also has 454 yards on the ground with 6 touchdowns while averaging 10...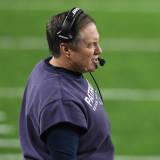 Patriots head coach Bill Belichick runs a tight ship, but that wasn't really an issue in the past.But that was then, and this is now.A young Tom Brady and a group of "foot soldiers' was one thing, but being a disciplinarian among a team full of players that have experience and have played in Foxboro for a number of years is a different story.Brady has been suiting up for the Patriots...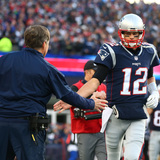 The NFL season coming to an end may not mean the end of the supposed power struggle within the New England Patriots organization.NBC Sports Boston's Mike Giardi tweeted on Thursday that Bill Belichick has been making some of the top Pats players like Rob Gronkowski and Tom Brady "miserable." He also says a lot of the issues revolve around the Alex Guerrero problems. Guerrero is Brady...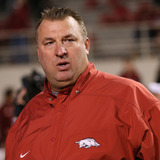 Bret Bielema may have been ousted as Arkansas' head football coach, but he is still keeping busy these days.Bielema has been serving as a consultant for the New England Patriots and helping them with some of their draft prospects, according to NFL Media's Ian Rapoport. Indeed, Bielema attended the NFL Scouting Combine as a Patriots representative, NESN previously reported.Bielema...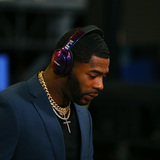 Now that cornerback Malcolm Butler has moved on to the Tennessee Titans, he opened up about why he thinks he was benched in Super Bowl 52.His benching has been somewhat of a mystery and Butler's story sheds his insights into the situation. Even though Butler has not spoken with head coach Bill Belichick since the Super Bowl loss in Minnesota, it appears he harbors no ill feelings...
MORE STORIES >>
Patriots News

Delivered to your inbox

You'll also receive Yardbarker's daily Top 10, featuring the best sports stories from around the web. Customize your newsletter to get articles on your favorite sports and teams. And the best part? It's free!