We've updated our Privacy Policy.
By continuing to use this site, you are agreeing to the new Privacy Policy.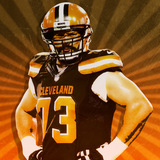 It's the end of an era in Cleveland, as perennial All-Pro left tackle Joe Thomas officially announced that he will be retiring at the age off 33 after spending 11 seasons in the NFL, all of which came with the Browns. And sure, as far as the Browns go, the last decade has been one that the franchise and its fans would soon like to forget. Things started well enough for Thomas in...
Quarterbacks are in the news both in free agency and the draft. On SCHOOLED with the Professor, we caught up with former NFL quarterback Bruce Gradkowski. Gradkowski is getting into broadcasting and scouting after his NFL career. He offers great perspective and opinions on the current state of quarterbacks in the NFL and also what's ahead in the draft. He studied the current group...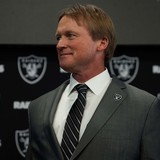 If you've ever killed time by scrolling through your Facebook news feed, there's a good chance that you've seen click-baity headlines from content factory websites that capitalize on millenials' nostalgia for our childhoods. We, like every generation before us, tend to put on rose-colored glasses when looking back at the past.So we get sucked in by seeing articles like, "15 90s Sitcoms...
LIKE WHAT YOU SEE?
GET THE DAILY NEWSLETTER:
With the 2016 NFL Draft now over and the bulk of the heavy lifting done with regard to the roster building process now out of the way, it is easier to begin to take stock of where the Pittsburgh Steelers stand at certain positions, and what the implications might be... The post 2016 Steelers Stock Watch – QB Bruce Gradkowski – Stock Down appeared first on Steelers Depot by Matthew...
It's not often an athlete can play at the highest level while playing in his own backyard. That's the opportunity Bruce Gradkowski has enjoyed since 2014. So it was an easy decision to want to return to Pittsburgh. Gradkowski apparently had interest from other NFL teams, per this great feature... The post Happy To Be Home, Gradkowski Chooses Pittsburgh appeared first on Steelers...
Pittsburgh Steelers backup quarterback Bruce Gradkowski was one of five players placed on the PUP list by the team for the start of training because of an issue with his throwing shoulder. While the injury has hampered Gradkowski for most of the offseason practices, it doesn't sound overly serious. With that said, it appears as […] The post Report: Steelers QB Bruce Gradkowski Expects...
During his two seasons with the Pittsburgh Steelers and ironman Ben Roethlisberger refusing to come out of games, backup quarterback Bruce Gradkowski has made one paltry appearance, during which he had no passes attempted and only two rushes for -2 yards, presumably for kneel-downs in the victory formation. Gradkowski made light of his status as...Read More The post Steelers backup...
On Monday, the Pittsburgh Steelers took their annual field trip to the local Dave and Busters to take part in a team building exercise. For a backup quarterback Bruce Gradkowski, this was his second such team-building trip as a member of the Steelers and he took time out to talk about the importance of it […] Steelers QB Bruce Gradkowski Calls Team Building Exercise 'Super Important...
MORE STORIES >>
Steelers News

Delivered to your inbox

You'll also receive Yardbarker's daily Top 10, featuring the best sports stories from around the web. Customize your newsletter to get articles on your favorite sports and teams. And the best part? It's free!