We've updated our Privacy Policy.
By continuing to use this site, you are agreeing to the new Privacy Policy.
If Kirk Cousins isn't a member of the Washington Redskins in 2017 or 2018, the franchise thinks it has a short-term solution in Colt McCoy.According to a report, McCoy is a player Washington believes it can count on to win games."…the Redskins do believe they can win in the short term with McCoy, and there's a feeling that it'd be better to just resolve the Cousins situation now...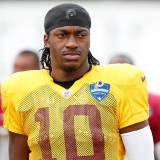 Washington football backup quarterback Colt McCoy missed Monday's practice, which allowed quarterback Robert Griffin III to temporarily serve as Kirk Cousins' immediate backup, according to a report from Mike Jones of The Washington Post. RG3 handled the second-string duties in while McCoy sat out because of a cut foot. He was spotted riding an equipment cart to the practice field...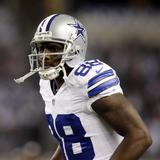 The offseason news cycle is really kicking into high gear as league executives and front office members are all in Indianapolis this week for the Scouting Combine. As much as this time is used to evaluate college prospects, it is also an important time for agents, players, and teams to talk about contracts. Every head coach in the league held a press conference Wednesday, and as...
LIKE WHAT YOU SEE?
GET THE DAILY NEWSLETTER:
Colt McCoy Exits Game After 1 Drive, RGIII Takes Over at QB After one drive Redskins quarterback Colt McCoy was pulled from the game Sunday against the New York Giants. McCOy took a pretty sizable hit from several Giants players on a broken play that he had to scramble up the middle on. McCoy was taken […]
The Washington Redskins are up against the New York Giants this Sunday at MetLife Stadium. Both teams entered this season with high hopes of making a return to the playoffs, but as the season winds down, both are staring at losing records and an offseason of uncertainty.  The Redskins are on a five game losing streak and the Giants just snapped a seven game losing streak. As a fan...
Questionable, a word that can be used in many ways surrounding the Redskins this season. Colt McCoy is questionable to play Sunday, just as Head Coach Jay Gruden's decision to start McCoy over Griffin III is questionable. It was questionable for Washington to trade multiple top-round picks for one rookie. Now that player's future is at best, questionable. Prior to Washington's 24...
According to ESPN insider Adam Schefter, the Washington Redskins are now planning on starting Colt McCoy over Robert Griffin III Sunday against the Indianapolis Colts. Washington is planning to start Colt McCoy over Robert Griffin III on Sunday at Indianapolis, per a team source…. http://t.co/o0WZcOitBr — Adam Schefter (@AdamSchefter) November 26, 2014   This comes on the...
The most viral moment from the Washington Redskins' shocking victory over the Dallas Cowboys on Sunday night came shortly after the game ended, when Redskins PR boss Tony Wyllie aggressively pulled Colt McCoy away from an interview with ESPN Deportes reporter John Sutcliffe. Wyllie has a logical(?) explanation. On Tuesday morning, Wyllie told TMZ Sports...Read More
A strange scene played out following the Washington Redskins' somewhat surprising 20-17 overtime victory over the Dallas Cowboys at AT&T Stadium on "Monday Night Football," and it all revolved around quarterback Colt McCoy. After leading the Redskins offense down the field for Kai Forbath's 40-yard, game-winning field goal, the third-string quarterback was receiving some attention...
#457962714 / gettyimages.com Getting his first start since December 2011, Redskins quarterback Colt McCoy has not disappointed thus far. The veteran quarterback has managed the game, and after completing a huge pass to DeSean Jackson, McCoy called his own number knifing through the Dallas Cowboys' defense for the seven-yard touchdown. The score put the Redskins up 17-10. [Vine...
MORE STORIES >>
Redskins News

Delivered to your inbox

You'll also receive Yardbarker's daily Top 10, featuring the best sports stories from around the web. Customize your newsletter to get articles on your favorite sports and teams. And the best part? It's free!