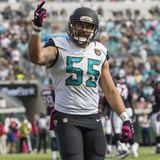 Jacksonville Jaguars linebacker Dan Skuta has reportedly been cleared of misdemeanor battery charges stemming from an arrest in late June. The linebacker was accused of slamming a woman's head into a building window late at night. She alleged Skuta was angry that she would not give him her phone number. When police arrived at the scene, they found her to have no injury. Despite...
Jacksonville Jaguars linebacker Dan Skuta was arrested back on June 19 for allegedly attacking a woman by smashing her head into a building window in Orlando, Fla. Since the report broke, Skuta's attorney has released a statement regarding what he calls "fabricated" assault charges by the alleged female victim. Dan Skuta's attorney just sent us a statement regarding the arrest....
Jacksonville Jaguars linebacker Dan Skuta was arrested on June 19 after allegedly pushing a woman's head into a building window in Orlando, Fla. Per Mike Kaye of WTLV, Skuta is being charged with misdemeanor assault. He posted a $500 bond on June 20 and is scheduled to be back in court on July 20. The incident occurred when Skuta became angry that the alleged victim would not give...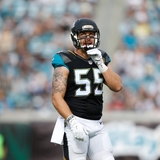 As the Jacksonville Jaguars head into the 2016 season, the need to stay healthy and out of trouble is extremely important. These are important for any team. But, they are especially essential for teams trying to make the playoffs for the first time since 2007. Unfortunately, linebacker Dan Skuta got the year off to a rough start as he was arrested last week in Orlando, Florida. Per...
The Jacksonville Jaguars seem to be on the rise in the AFC and could compete for a division title and playoff spot this year. However, they could get affected by linebacker Dan Skuta being arrested earlier this month. It was reported by the National Football Post's Aaron Wilson on Monday that Skuta was arrested on June 19 for misdemeanor battery. He was released on $500 bond and...
What?!?! This deal has to be easily the most surprising deal of the off-season, as I never expected Skuta to get anything close to 20.5 million over 5 years and it's hard to imagine the Jaguars were bidding against any team willing to offer Skuta even half of this money. I like Skuta as a player. The amount of different positions Skuta has played in the NFL is incredible. He's played...
For a few seasons now the San Francisco 49ers have been considered one of the deepest and most talented teams.  They have been a Superbowl contender year in and year out with a physical smash mouth style that has produced numerous pro-bowlers.  Sure, Jim Harbaugh deserves a ton of credit for inheriting this group and turning them into a powerhouse.  But let's talk about these group...
Of all the quarterback friendly rules the slide rule is the one that makes the most sense. Yeah, you could say that they are football players too and deserve to be hit like everyone else. At the same time ask fans of a team that lost their quarterback to hits like the one Drew Stanton took from Dan Skuta Sunday and can't see the game being played without it.He is undoubtedly going...
The 49ers' Dan Skuta just returned from the IR after a foot injury and it looks like the linebacker still holds a grudge against the appendage — anybody's.The Niners led the Cardinals with less than four minutes to go in the third quarter when Skuta took out his aggression on someone else's size 15-EEEs during a pile-up.Maybe it was the wrong size.
MORE STORIES >>
NFL News

Delivered to your inbox

You'll also receive Yardbarker's daily Top 10, featuring the best sports stories from around the web. Customize your newsletter to get articles on your favorite sports and teams. And the best part? It's free!