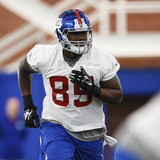 Giants tight end Daniel Fells won't be playing this season, but he got to experience the feeling of playing in front of an enthusiastic home crowd. Fells' children were thrilled to see their dad coming home from the hospital. They screamed in delight as he came up the stairs on crutches, and Fells posted the video on Instagram. Fells was placed on injured reserve after the Giants...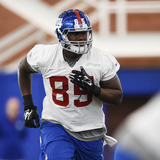 MRSA (Methicillin-resistant Staphylococcus aureus): caused by a particular type of staph bacteria that becomes resistant to many of the antibacterial medications used to treat regular staph infections. CA-MRSA (community assisted MRSA) affects a healthy population in the community such as child-care workers, those who live in crowded areas, and athletes. The CDC states that just...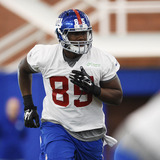 Doctors attending to New York Giants tight end Daniel Fells as he deals with a MRSA infection are feeling more confident that the effectiveness of the most recent treatments may mean he won't need his foot amputated, a potentially dire outcome feared as a possibility as recently as a few days ago to thwart the spread of the infection and potentially save his life. ESPN reported...
LIKE WHAT YOU SEE?
GET THE DAILY NEWSLETTER: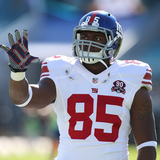 New York Giants tight end Daniel Fells will reportedly never play football again, and it sounds as though he is fortunate to be alive. According to Jason Cole of Bleacher Report, Fells has already had five procedures on his foot in an attempt to fight off a MRSA infection. One of the surgeries involved removing a portion of the 32-year-old's foot, which has put an end to his NFL...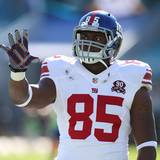 New York Giants tight end Daniel Fells is reportedly at risk of losing his foot because of a staph infection. According to Ian Rapoport of NFL Network, Fells has been hospitalized for over a week and undergone five surgeries. The 32-year-old has been battling MRSA and was placed in the intensive care unit on Friday. Fells is expected to have more surgeries, and doctors were reportedly...
A source has confirmed that the New England Patriots have taken OT Sebastian Vollmer and TE Daniel Fells off the PUP list after both passed their physicals, paving their way to be available at the start of the regular season. Vollmer has been recovering from a back injury from last season and Fells had a leg injury. Neither is eligible to play in Monday night's game against the...
MORE STORIES >>
NFL News

Delivered to your inbox

You'll also receive Yardbarker's daily Top 10, featuring the best sports stories from around the web. Customize your newsletter to get articles on your favorite sports and teams. And the best part? It's free!