We've updated our Privacy Policy.
By continuing to use this site, you are agreeing to the new Privacy Policy.
The Pittsburgh Steelers find that their 2017 season ended a bit prematurely, and are undergoing the exit meeting process a couple weeks sooner than they would have liked. Nevertheless, what must be done must be done, and we are now at the time of the year where we close the book on...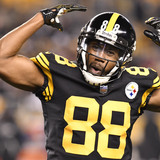 A Pittsburgh Steelers wide receiver is going on a social media blackout for a very important reason. No, it's not so he can focus on his games ahead. And no, it's not so he avoids fan trash talk. Instead, it's to avoid spoilers for the newest "Star Wars" movie.The Pittsburgh Post-Gazette's Sean Gentille had a long conversation with Darrius Heyward-Bey and Le'Veon Bell that he published...
The Pittsburgh Steelers won't begin training camp for two more weeks, so I thought we would spend this week talking about a few players that many believe will have a decent shot at making the final 53 man roster. Basically, these are players that we can't quite consider locks, but do consider as being on […] Steelers 2014 Pre Training Camp Roster Polls: Will WR Darrius Heyward-Bey...
LIKE WHAT YOU SEE?
GET THE DAILY NEWSLETTER: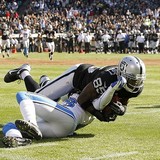 Darrius Heyward-Bey was a new addition to the Pittsburgh Steelers this offseason and even though the wide receiver isn't a long-time Steeler, he's still a veteran of the game. There's been a lot of talk about the new additions to every NFL team since the draft, but as the saying goes some teams will being going "out with the old and in with the new." Some veteran's job may be in...
The second coming of Limas Sweed? Some yinzers think the Pittsburgh Steelers' recently signed wide receiver Darrius Heyward-Bey might be just that. That's far from true though. Heyward-Bey was drafted by the Oakland Raiders in back in 2009 and although he never broke out in jaw-dropping fashion he still maintain solid numbers throughout his career. His biggest season came in 2011...
The NFLPA has now updated their figures and as expected, the contract signed this week by new Pittsburgh Steelers wide receiver Darrius Heyward-Bey was a one-year qualifying deal. Heyward-Bey is scheduled to earn a base salary of $730,000 in 2014 and also received a $65,000 signing bonus. His reduced cap charge in 2014 will be […] New Steelers WR Darrius Heyward-Bey Did Indeed Sign...
Should new Pittsburgh Steelers wide receiver Darrius Heyward-Bey ultimately wind up making the final 53 man roster out of training camp, there's a strong possibility that he'll have to contribute on special teams. While playing on special teams is pretty much something that's new to him, Heyward-Bey showed late last season that he might be […] Steelers WR Darrius Heyward-Bey Might...
The Indianapolis Colts are coming off a miraculous comeback victory against their division rival Houston Texans and are heading into a 1 p.m. matchup against the St. Louis Rams. DHB drops a lot of balls (Photo credit: Sean M. Haffey) The Colts clearly struggled on both sides of the ball for the majority of the game but, most notably, offensively. A lot of it had to do with adjusting...
MORE STORIES >>
Steelers News

Delivered to your inbox

You'll also receive Yardbarker's daily Top 10, featuring the best sports stories from around the web. Customize your newsletter to get articles on your favorite sports and teams. And the best part? It's free!