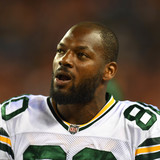 Tight end Martellus Bennett's time as a Packer was abruptly cut short after he was released by Green Bay on Wednesday. The team claims Bennett did not disclose a shoulder when he signed with the team this past spring.With some bad blood brewing in the air, left tackle David Bakhtiari came forward and shared this comment about Bennett's departure. Clearly, Bakhtiari is not happy with...
Green Bay Packers left tackle David Bakhtiari has been nursing a bum knee back to health all week. His absence from practice has been a bit of a concern, but Bakhtiari doesn't see himself missing any regular-season games for his current injury."I'm not concerned (about that)," Bakhtiari said, per Michael Cohen of the Journal Sentinel. "I don't think Coach (Mike) McCarthy is either...
GREEN BAY, Wis. -- A sore knee has sidelined left tackle David Bakhtiari in Packers training camp, and it's unclear if the starting offensive lineman will play in Sunday's preseason game at Pittsburgh. Coach Mike McCarthy said before practice on Monday that the third-year tackle was going through a treatment program. McCarthy said Bakhtiari had a knee that was "bothering him" but...
By Rachel Wold The Green Bay Packers got a major taste of the noise at CenturyLink Field when they played the Seattle Seahawks in the season opener. It was a good initiation for rookies or players who hadn't yet faced the thunderous sounds of the stadium to get a feel for how incredibly loud the noise really is. When asked about how the noise impacted the Packers, Green Bay fullback...
Rookie fourth-round pick David Bakhtiari could replace Bryan Bulaga With Bryan Bulaga out for the season with a knee injury, the Green Bay Packers have a giant hole at left tackle. Barring a trade for a proven veteran, either fourth-year pro Marshall Newhouse or rookie David Bakhtiari will be asked to fill the void. Switching Newhouse from right tackle back to the position he played...
MORE STORIES >>
Packers News

Delivered to your inbox

You'll also receive Yardbarker's daily Top 10, featuring the best sports stories from around the web. Customize your newsletter to get articles on your favorite sports and teams. And the best part? It's free!