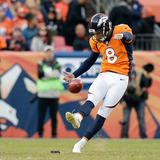 Brandon McManus' right leg is officially made out of steel.The Denver Broncos kicker took to Twitter on Friday to post a video of himself hitting a 73-yard field goal (yep) during team practice. For the record, McManus' career-long is 57 yards, and the NFL record for longest field goal belongs to Matt Prater, who hit a 64-yarder for the Detroit Lions back in 2013. The high altitude...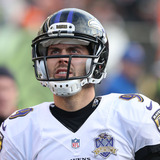 Brandon McManus, someone who has a lot of experience attempting field goals in high altitude, is not buying Baltimore Ravens kicker Justin Tucker's story about almost converting an 85-yard field goal in warmups. Earlier this week, Tucker said he thinks he could kick an 84.5-yard field goal in Denver if conditions were perfect. He claims he attempted an 85-yarder in warmups...
The Broncos will be looking for their seventh win of the season this Sunday, but until then, they can revel in one more victory. Today, Brandon McManus was named AFC Special Teams Player of the Month for October. Brandon McManus named top AFC special teams player in October https://t.co/e2Fp5GSTDi via @9News #9news #9sports — Mike Klis (@MikeKlis) October 29, 2015 Brandon McManus...
  These 2015 Denver Broncos are special. This team isn't just one which revolves around one stellar unit – the offense for the majority of the last 30 years – but all three phases of the game are coming together to earn wins. OK, the offense still lags way, way behind the defense and even special teams, but it's shown flashes of brilliance, too. Certainly, special teams has been...
Brandon McManus has had a rocky path through the Rocky Mountains, but this year, the path seems to be smoothing out. The second year Kicker out of Temple University is a perfect 9-9 this season, including 3-3 from 54-yards or more. This was certainly not the case in 2014. With the tandem of McManus and Connor Barth sharing the kicking duty for the Denver Broncos last season, it was...
The Denver Broncos once again received a huge effort from their kicker Brandon McManus in a thrilling early season win. McManus was perfect for a second straight week Thursday night against the Chiefs connecting on all four of his extra points plus a very clutch 54 yard field goal to tie the game late in the third quarter at 17. So not only has McManus been clutch, he's showed off...
  Last year was a tough one for Denver Broncos kicker Brandon McManus. The 24-year old was known to have a strong leg but his accuracy left much to be desired. He missed four of his first 13 attempts, including two of 50+ yards, and was replaced by veteran Connor Barth during field goal situations. Fast forward to 2015 and McManus entered this season with something to prove. He removed...
Denver Broncos kicker Brandon McManus scored the first points of the 2015 season in stylish fashion. After a Denver drive stalled near midfield McManus came and and boomed through a very long field goal. McManus banged it in from 57 yards with ease. McManus drilled that one! From my seat in the press box that one could have been 65 easy #Broncos — Robin Carlin (@carlinrobin) September...
The Denver Broncos still have to make 22 more cuts before Saturday. Bu they've already made at least one questionable decision. Brandon McManus, once again, woefully overwhelmed in a clutch, live-game situation. With just more than 50 seconds left in Thursday's preseason finale the Broncos trotted out McManus for a 51 yard field goal. Down 22-20 the kick was essentially for the win...
This has to qualify as a somewhat surprising move. Fresh off his four-game suspension for violating NFL's substance abuse policy, Denver Broncos kicker Matt Prater is reportedly being released by the team. Prater has been with the team for eight seasons and led the NFL in both field goal percentage as well as extra-points made last year. It's a surprising move for a team that has...
MORE STORIES >>
NFL News

Delivered to your inbox

You'll also receive Yardbarker's daily Top 10, featuring the best sports stories from around the web. Customize your newsletter to get articles on your favorite sports and teams. And the best part? It's free!