Dexter McCluster eludes defenders on the way to the endzone and a record setting performance. (kcchiefs.com) The Kansas City Chiefs came into the nation's Capitol on Sunday and handed the Redskins a punishing 45-10 loss that may have sparked big changes in the near future for the Redskins themselves. The Chiefs special teams were really the story of the day, marked by a Chiefs-record...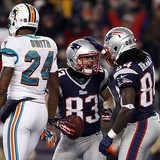 Sean Smith scores a touchdown on a 100 yard interception return. (kcchiefs.com) The Kansas City Chiefs, once again, overcame themselves this week and improve to 9-0 on the season defeating the Buffalo Bills 23-13, their first win in Buffalo since 1986. After a shaky first half all around, the Chiefs defense picked it up in the second half and gave Buffalo more than they could handle...
Dexter McCluster celebrates with the Chiefs' faithful. (kcchiefs.com) The Kansas City Chiefs improved to 8-0 on Sunday beating the Cleveland browns by a score of 23-17 and guarantee that 2013 will not be a losing season. It was really a tale of two halves during the game this afternoon. The Chiefs came out looking really good on offense, but as usual, struggled to score touchdowns...
Dexter McCluster Carries Football Dexter McCluster's role with the Kansas City Chiefs has been limited by the new coaching staff, headed by Andy Reid, and he doesn't like it.  Stories by several sources close to the Chiefs all reported today that McCluster was taken out of the rotation of returning kickoffs and punts.  The continuation of the story has been that the Chiefs are seeking...
MORE STORIES >>
Chargers News

Delivered to your inbox

You'll also receive Yardbarker's daily Top 10, featuring the best sports stories from around the web. Customize your newsletter to get articles on your favorite sports and teams. And the best part? It's free!