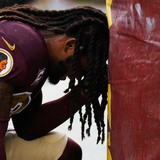 One of the most surprising parts of the trade that brought Alex Smith to Washington was the fact that the Redskins included slot cornerback Kendall Fuller in the deal, and at least one of Fuller's ex-teammates is furious.The morning after Fuller was traded — along with a third-round pick — to the Chiefs for Smith, Washington safety D.J. Swearinger blasted the Redskins on Twitter...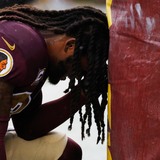 Redskins safety D.J. Swearinger was critical of his team regarding what he believed was a lack of preparation for Sunday's game against the Chargers.The Redskins defense turned in one of their worst performances of the season, as they gave up 488 total yards, which resulted in the Chargers scoring 30 points in the loss.Swearinger told reporters he actually wasn't surprised about...
Washington Redskins safety D.J. Swearinger took to social media Monday to talk some serious smack about his big hit on Marshawn Lynch during Sunday's 27-10 victory.Swearinger delivered a punishing blow on Lynch during a carry in the early in the third quarter. The hard-hitting safety made sure to post video of the play as evidence.Naturally, Swearinger also made sure to troll Lynch...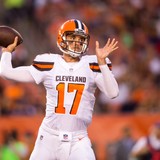 The NFL preseason is over, and that means it's time for teams to start trimming their rosters. All teams need to have their final 53-man roster set by 4 p.m. ET on Saturday.Numerous cuts around the league began on Friday and involved some big names and surprises. Here's a look at some of the more notable players who were released.Brock Osweiler, QB (Browns)Osweiler endured quite...
One of the more interesting byproducts of the annual NFL free agency frenzy is how players joining new teams often make it a mission to somehow keep their old jersey number.It's of course often the case that a player on the free agent signee's new team already has the coveted number. So, some sort of arrangement — usually financial — is agreed upon where the new player gets the number...
My Twitter mentions and email has been flooded with Tampa Bay Buccaneers fans asking about former Houston Texans safety D.J. Swearinger, who the Bucs claimed off of waivers on Tuesday.  Knowing a limited amount of information on Swearinger — except for knowing he hits but doesn't tackle and struggles in coverage — many fans compare him to former Bucs safety Mark Barron. While...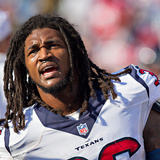 By Vincent Frank The odd situation regarding former Houston Texans second-round pick D.J. Swearinger took another turn on Monday. According to NFL Media's Ian Rapoport, the starting safety was informed by Houston that he will not return to the team in 2015. The club had apparently tried to trade Swearinger, but there weren't any takers. This means that an outright release is probably...
Monday night the Houston Texans and Pittsburgh Steelers will have a similar goal. Both will be hoping for a win that will allow them to get their season back on track. For Pittsburgh it would be more like taking a step towards being on the right track (they really haven't been). After dropping two nail biters Houston now wants to avoid falling below .500.So there is a lot riding...
The preseason is no meant for fan. It is meant to give coaches a chance to see what their players have to offer in a game against an actual opponent. Sometimes that can result in an entertaining game, but more often than not it doesn't. That doesn't mean we will not get a glimpse of greatness every now and than.Stuff like the hit Texans safety D.J. Swearinger laid on poor Cardinals...
Houston Texans rookie safety DJ Swearinger cost his team three points with a couple of boneheaded penalties he committed before halftime against the Jacksonville Jaguars on Thursday. After stopping the Jags on a 3rd and 2 play, the second-round pick from South Carolina taunted his opponent and was penalized. Instead of the Jags having to […]
MORE STORIES >>
Redskins News

Delivered to your inbox

You'll also receive Yardbarker's daily Top 10, featuring the best sports stories from around the web. Customize your newsletter to get articles on your favorite sports and teams. And the best part? It's free!