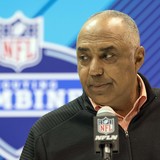 Now that the first couple waves of free agency are over and the NFL is preparing for the annual draft, it's time to look back at what was a drama-filled month of March around the league.We had previously focused on the best move each team has made thus far this offseason. Here, we put on our negative hats and check in on the worst move each team has made.That includes the New England...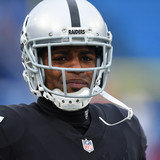 Here are figures on some of the recent contracts signed around the NFL, with all links going to Twitter unless noted otherwise. Michael Crabtree, WR (Ravens): Three years, $21MM. $11MM guaranteed, $8MM guaranteed in 2018. $7MM signing bonus, $2.5MM performance-based incentives. $2MM roster bonus due in March 2019 (via Pelissero and NFL reporter Howard Balzer). Avery Williamson...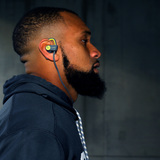 Former Colts wide receiver Donte Moncrief is staying in the AFC South. Moncrief will sign with the Jaguars, a source tells Adam Schefter of ESPN.com (on Twitter). The addition of the 24-year-old will help to offset the loss of Allen Robinson, who agreed to a deal with the Bears early this morning. Moncrief will pair with Marqise Lee, who has been retained on a new deal, atop the...
LIKE WHAT YOU SEE?
GET THE DAILY NEWSLETTER: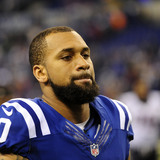 The Jacksonville Jaguars continue to be aggressive in free agency. Having already landed the top offensive lineman in the class, Andrew Norwell, and having locked up receiver Marqise Lee, they have reportedly agreed to a deal with wide receiver Donte Moncrief. Moncrief is still just 24 years old and had some terrific years of production with the Indianapolis Colts. Since being selected...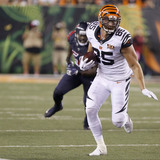 Bengals tight end Tyler Eifert has missed 41 of 80 potential regular season games due to concussions, stingers, an elbow injury, a torn labrum, ankle surgery, disc repairs, and a knee issue. As he approaches free agency, he tells Jim Owczarski of the Cincinnati Enquirer that "everything is fixed." Teams, of course, will be taking a thorough medical look at Eifert before extending...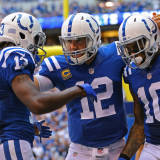 At the bottom of the AFC South, there is a grand football experiment happening. On one hand, the Indianapolis Colts have one of the best quarterbacks in the league paired with a terrible supporting cast. On the other, the Jacksonville Jaguars have one of the worst quarterback situations in the league paired with a great supporting cast. Neither team figures to be especially good...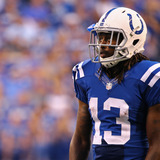 With his team facing the possibility of a 0-3 start to the season, and No. 2 receiver Donte Moncrief out at least a month with a fractured scapula, T.Y. Hilton is putting much of the playmaking load on his shoulders this Sunday. Hilton promised he'll make big plays when the Indianapolis Colts host the San Diego Chargers. "I've just got to make plays for my team,'' Hilton told reporters...
So it's come down to this; another Patriots vs Colts playoff game. Tom Brady and Peyton Manning made this game an exciting rivalry in the past and now Andrew Luck has established himself as a worthy opponent in his Peyton's place at the helm of the Colts. Indianapolis is 1-3 against the Patriots in the playoffs but Luck and the Colts are determined to get their second playoff victory...
Losers: LaVon Brazill This one should be obvious, as he got himself kicked off the Indianapolis Colts team barely a week into training camp. Brazill, once again, violated the NFL's substance abuse policy. Brazill was already struggling to earn a spot on the roster as the sixth receiver, and this misstep just made it easy for the Colts to let him go. On the streets, looking for...
Well, the draft is finally over with. With it being pushed back a few weeks, it was quite a drawn out process, but here we are, finally, post-draft and looking forward to minicamp. There will be plenty of new faces at camp, and five of them will be draftees. Of those five, Donte Moncrief was the best pick GM Ryan Grigson pulled off for the Indianapolis Colts. The reason is plain...
MORE STORIES >>
Jaguars News

Delivered to your inbox

You'll also receive Yardbarker's daily Top 10, featuring the best sports stories from around the web. Customize your newsletter to get articles on your favorite sports and teams. And the best part? It's free!