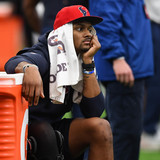 Given that he tore his ACL in early November, Texans quarterback Deshaun Watson is expected to be available for organized team activities, according to Ian Rapoport of NFL.com (video link). While losing a dynamic talent like Watson clearly cratered Houston's 2017 campaign, the fact that he went down relatively early in the season does have a silver lining, as he'll now be ready for...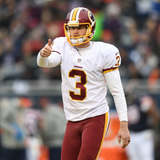 The Redskins have taken care of one of their own free agents in advance of the legal tampering period. Kicker Dustin Hopkins has agreed to a new deal, according to a team announcement. Terms of the deal were not disclosed. Hopkins, 28 in October, has been with the Redskins since 2015. In that time, he has made 73-of-87 field goal attempts along with 93-of-98 extra point tries. He...
The free agent kicking market won't include Dustin Hopkins. A couple of hours before the start of the "legal tampering" window that allows teams to communicate with representatives of impending free agents, the Redskins announced that they have signed Hopkins to a contract extension. They did not announce any terms of the deal. Hopkins has [more]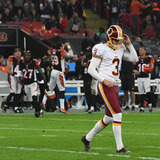 It was not a banner day for Washington Redskins kicker Dustin Hopkins. He missed two field goals, including what would have been the game-winner in overtime against the Cincinnati Bengals (watch here). While many will blame the kicker for choking in crunch time, teammate Josh Norman is not one of them. Norman: "if you're putting this game on (Hopkins) for missing the field goal...
Redskins kicker Dustin Hopkins has been named NFC special teams player of the week for his performance in Sunday's 29-27 victory over the New York Giants at MetLife Stadium. Hopkins made five field goals, a career-high, including the game-winning 37-yarder with 1:51 left in the game. He also hit field goals of 25, 33, 45 […]
Dustin Hopkins enters the 2016 season with the potential to be one the most successful kickers in Redskins' history and he's already showing off what he can do.
Redskins special teams coordinator Ben Kotwica said he was satisfied with the overall effort by first-year kicker Dustin Hopkins, both with field goals and with kickoffs.
K Dustin Hopkins had a solid first season for the Redskins. Can he build on it?
Redskins Grades for Offense: Week 9 Redskins Grades for Defense: Week 9 KICKING It was a big, though not particularly challenging, day for PK Dustin Hopkins, who continues to be almost perfect for the Skins. Hopkins attempted and converted four field goals and all five extra point attempts for a superb total of 17 points. [Kudos if you had Hopkins as your fantasy kicker.] The field...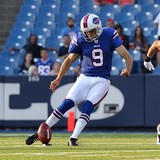 The Buffalo Bills have released longtime kicker Rian Lindell. The 36-year-old Lindell spent the last 10 years in Buffalo and is the most accurate kicker in Bills history with a field goal percentage of 83.3 percent. The release means that rookie Dustin Hopkins has won Buffalo's kicking competition. Hopkins, chosen 177th overall, has displayed a much stronger leg than Lindell throughout...
MORE STORIES >>
Redskins News

Delivered to your inbox

You'll also receive Yardbarker's daily Top 10, featuring the best sports stories from around the web. Customize your newsletter to get articles on your favorite sports and teams. And the best part? It's free!