We've updated our Privacy Policy.
By continuing to use this site, you are agreeing to the new Privacy Policy.
The New York Giants have a quarterback dilemma, and all Davis Webb-haters tend to refer back to the days of Ryan Nassib. Let's get this out of the way… that's ridiculous. You can't compare any player in the NFL, since later-round picks often emerge as starters at all different positions. Nassib didn't have the work ethic Webb currently has, and his chances at starting a game in the...
Eli Manning is sport for one of the newest members of the Super Bowl champions. Michael Bennett called out Manning first among the NFC East quarterbacks during a press conference Monday introducing him to the Eagles, who acquired him in a multi-player trade with the Seahawks earlier this month. The 32-year-old Bennett sounded confident he...
Quarterback Eli Manning, defensive end Jason Pierre-Paul and defensive end Olivier Vernon did not need to be part of 2018 NFL free agency to get millions from Giants. Watch video It was an expensive weekend for the Giants even before bringing in any additional new players. Three of the team's best and highest-paid players -- quarterback...
LIKE WHAT YOU SEE?
GET THE DAILY NEWSLETTER:
I remember one fine day on a radio show New York Giants' QB Eli Manning was asked if he felt that he was an elite QB, like Tom Brady. Eli responded, "yes, I feel like I am a elite QB". Eli has had his fair shares of ups and downs, but one thing is always for certain, he is a Hall of Fame QB. When he was drafted in 2004, he didn't want to be a San Diego Charger, so he requested a...
2017 third-round draft pick Davis Webb was the No. 3 quarterback to Eli Manning last season. With 2017 backup QB Geno Smith gone, and a potential first-round draft pick going to a quarterback in 2018, what role will Webb have this season? Watch video That shadow next to Giants quarterback Eli Manning goes by the name of Davis...
Right now, we don't know how long Eli Manning will be the quarterback of the New York Giants. But we do know that he is not going anywhere in 2018 either. According to a report by ESPN, Manning's $5 million roster bonus for this season vested on Sunday. What that means is that Manning...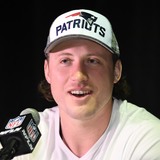 Offensive linemen have been getting paid big-time this week, and thanks to Nate Solder, they'll likely continue to command large deals.Solder signed a four-year, $62 million deal ($34.9 million guaranteed) with the Giants, making him the highest-paid offensive lineman in the NFL.The deal does make sense on paper, as the Giants had one of the worst offensive lines in football last...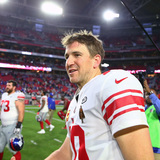 Imagine receiving a wedding invite from a complete stranger. What would your initial reaction be? Throw said invite in the trash or simply return to sender, right?New York Giants quarterback Eli Manning was put in this quandary when a fan of the team invited the future Hall of Famer to his wedding.Manning's response? A hand-written letter back to the fan politely declining the invite...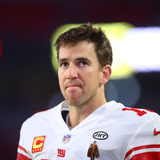 Eli Manning recently took the time to RSVP to an invitation to the wedding of a New York Giants fan. Unfortunately, for said fan, Manning sent his regrets that he would not be able to attend. The soon-to-be groom, however, got a pretty awesome keepsake out of the deal. The response from Manning, originally posted on reddit, includes the Giants signal-caller checking the box for ...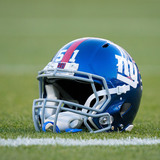 The New York Giants reportedly may not go quarterback with the No. 2 pick in the NFL Draft.After the NFL Combine, ESPN's Jordan Raanan says that the Giants are less likely to use the second overall pick on a quarterback. There are several reasons for this, including the fact that the crop of quarterbacks is not getting consistently rave reviews from scouts.Coach Pat Shurmur stated...
MORE STORIES >>
Giants News

Delivered to your inbox

You'll also receive Yardbarker's daily Top 10, featuring the best sports stories from around the web. Customize your newsletter to get articles on your favorite sports and teams. And the best part? It's free!