We've updated our Privacy Policy.
By continuing to use this site, you are agreeing to the new Privacy Policy.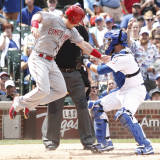 Want more news first thing in the day? Sign up for the Yardbarker Morning Bark newsletter here.Good morning and welcome to the YB Box Score, what we're reading while applauding the Reds for their strength against the Cubs (ignoring the Pirates five-game losing skid). Happy birthday today to Evan Gattis, Bart Scott and Jeremy Shockey. On this date in 1981, Herschel Walker made news...
The ongoing feud between Jeremy Shockey and Warren Sapp got even uglier on Sunday, as Shockey somehow got his hands on Sapp's bankruptcy papers and plastered them all over social media. In what was apparently the coincidence of a lifetime, Shockey claims some legal documents pertaining to Sapp's bankruptcy were sent to the former NFL tight end's address. Shockey shared a photo of...
Jeremy Shockey was out of football last year, and people who are only 32 years old and not working can get pretty bored. That could help explain one of the former New York Giants tight end's recent tweets, or it could be that he's just an incredibly weird dude. We pretty much have to assume that somebody got a little action last night. We have seen NFL players offer way too much...
LIKE WHAT YOU SEE?
GET THE DAILY NEWSLETTER:
SNAPSHOT
Jeremy Shockey must have thought his marriage — which lasted less than an NFL season — to Daniela Cortazar-Shockey was a done deal when they separated in October.  After all, the former NFL star was smart enough to have his beautiful bride sign an air-tight prenup where she was to get zilch if the couple ever divorced. But, like tearing an ACL after an All-Pro season, the five months...
If the point of a book tour is to gather as much media attention as possible, Warren Sapp is succeeding at that. He might be looking crazy while doing it, but any press is good press I suppose. Besides not letting go that his Twitter source was wrong about Jeremy Shockey being the Saints Bounty Snitch, he said some interesting things about Patriots coach Bill Belichick. Sapp...
The only press that Jeremy Shockey has gotten this summer was when Warren Sapp incorrectly called him the Saints Bounty Snitch. But, as we get closer to training camp the DYNASTY team are interested in his services. The Eagles pursuit of a tight end upgrade just got a whole lot more interesting. According to a league source, the Eagles are showing interest in former Giants...
Warren Sapp has been in the news quite a lot these past few months. His bankruptcy put the spotlight on him in the media, and if that was not enouggh, he went out and blatantly accused Jeremy Shockey of being the snitch in the New Orleans Saints bounty scandal. No he's doing the old backtrack and giving a big sorry to Shockey. Sort of. He still stands by his source that told him...
RIGHT BACK AT YA
Warren Sapp irresponsibly tweeted Wednesday that Jeremy Shockey was the "snitch" who told the NFL investigators about the Saints bounty system. Shockey, who played for the Saints two of the three years they had bounties, denied Sapp's accusation, but the allegation spread across the internet and ended up on many major sports websites. It was even discussed on NFL Network which is...
MORE STORIES >>
NFL News

Delivered to your inbox

You'll also receive Yardbarker's daily Top 10, featuring the best sports stories from around the web. Customize your newsletter to get articles on your favorite sports and teams. And the best part? It's free!