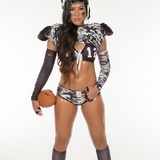 Do the football genes run in the Rice family? The Los Angeles Temptation are hoping so. Jaqui Rice, the daughter of Pro Football Hall of Famer Jerry Rice, will be among the athletes trying out for the Temptation football team on Saturday. A media relations representative tells Larry Brown Sports that Rice contacted the league about trying out. The Temptation, which competes in...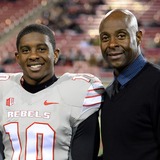 Whether it's Jerry Rice Jr. or Terrelle Pryor, the Cleveland Browns are willing to explore all options at wide receiver. Pro Football Talk reports that the Browns gave Rice a tryout. Rice is the son of Hall of Fame wide receiver Jerry Rice, who is considered by many to be the greatest football player of all time. Rice is an undrafted free agent who has never played in an NFL game...
Legendary comedian and the best political journalist on television Jon Stewart ended his 16-year run as host of The Daily Show on Thursday. It was a star-studded affair that was filled with emotion, hilarity and reflection during his final episode on Comedy Central. It can be said, without question, that Stewart is leaving the game at the absolute top. No one is as 'must-watch'...
Redskins Release Injured WR Jerry Rice Jr; Sign DE Jeremy Towns After falling awkwardly while stretching out for an overthrown pass during last Thursday's practice, Jerry Rice Jr reached for his left shoulder and didn't return to practice afterwards. Those with knowledge of the Washington Redskins roster depth at receiver knew that Rice, who was a [...]
Washington Redskins have waived the injured wide receiver Jerry Rice, Jr. The #Redskins waived/injured Jerry Rice Jr. today after he tore the labrum in his left shoulder. He'll revert to IR if he clears waivers. — Zac Boyer (@ZacBoyer) August 3, 2014 The son of Hall of Fame receiver Jerry Rice, tore the labrum in his left shoulder during practice on Thursday. The injury will require...
After appearing in nine games in four years at UCLA, Jerry Rice Jr. transferred to UNLV and caught 11 passes for 86 yards last season. Not selected in the NFL Draft earlier this month, Rice Jr. accepted an invitation to workout for the Baltimore Ravens during their rookie minicamp this past weekend. However, the team […]
Jerry Rice, Jr., son of Hall of Famer Jerry Rice, is going to work out next with the San Francisco 49ers. Rice Jr., who did not sign with the Baltimore Ravens after working out with them, has a unique and rare opportunity to play for his father's former team. Rice Jr. broke the news himself on Twitter. Working for the next opportunity… Appreciate the ravens for getting my feet wet...
MORE STORIES >>
Redskins News

Delivered to your inbox

You'll also receive Yardbarker's daily Top 10, featuring the best sports stories from around the web. Customize your newsletter to get articles on your favorite sports and teams. And the best part? It's free!