We've updated our Privacy Policy.
By continuing to use this site, you are agreeing to the new Privacy Policy.
There was supposed to be another frontrunner in the race for Kirk Cousins, and they might've had as good a shot as anyone. 49ers general manager John Lynch reflected Thursday on what the team originally had in mind for its quarterback of the future, which had little to do with Jimmy Garoppolo, now the NFL's...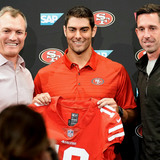 Before the San Francisco 49ers made the trade for quarterback Jimmy Garoppolo last season, it was widely reported and assumed that Kyle Shanahan wanted Kirk Cousins to join him instead. Well, speaking about this on ESPN's Golic and Wingo radio show, 49ers general manager John Lynch confirmed all the rumors."Jimmy, we made the trade, but then there were some days that Kyle Shanahan...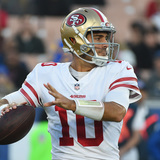 Jimmy Garoppolo no longer plays for the Patriots, so he's now free to enjoy himself during the offseason.And, judging by some recent social media posts, it appears that's exactly what the 49ers quarterback has been doing.Garoppolo has been in Las Vegas enjoying some of the March Madness action, and he apparently arrived on Thursday, when the 2018 NCAA Tournament's Round of 64 games...
LIKE WHAT YOU SEE?
GET THE DAILY NEWSLETTER: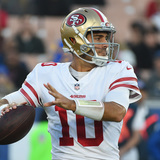 This Friday in the NFL has made San Francisco 49ers quarterback Jimmy Garoppolo a very rich young man.According to ESPN's Field Yates, Garoppolo's $28 million roster bonus kicked in on Friday afternoon. Keep in mind that Garoppolo received a little extra pocket cash as a signing bonus to the tune of $7 million earlier this year.Jimmy GQ is not done making money yet. Taking into consideration...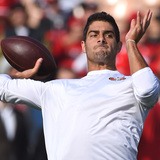 With NFL free agency in full swing, it is hard to ignore the quarterback pay scale. As it stands, the top four highest-paid quarterbacks in the league are now Kirk Cousins, Jimmy Garoppolo, Matthew Stafford and Derek Carr.Do we see a Super Bowl champion quarterback among these names? Of course not. But it gets worse. Happy new year indeed. The Minnesota Vikings just made Cousins...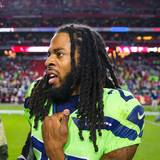 This past weekend, Richard Sherman would choose the San Francisco 49ers. Of course, it would come less than 24 hours after his release from the Seattle Seahawks. But revenge isn't the only reason Sherman would choose San Francisco.Their franchise quarterback, Jimmy Garoppolo, has something to do with it as well."That had a huge part of it. The way he played down the stretch was inspiring...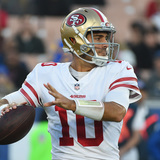 Let's face it. San Francisco 49ers quarterback Jimmy Garoppolo has been the talk of the town since he was traded. Not only is he one of the most attractive people on the planet, the young quarterback is said to be garnering the interest of several NFL free agents that want to be part of the team. General manager John Lynch is just smiling ear-to-ear here at the idea of landing some...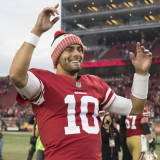 The San Francisco 49ers are locking down quarterback Jimmy Garoppolo, and they're giving him big money.According to NFL Network's Mike Garafolo, the 49ers and Garoppolo have agreed to a five-year deal worth $137.5 million. In terms of average annual value, this is the richest contract in NFL history. We heard a while ago that good progress was being made between the two sides, and...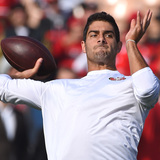 The NFL world was left somewhat shocked when the New England Patriots only got a second-round pick from the San Francisco 49ers in return for Jimmy Garoppolo, with rumors swirling that the Cleveland Browns would have been willing to pay much, much more. According to one reporter, that is not entirely true.Cleveland has both the No. 1 and No. 4 overall pick in the upcoming NFL Draft...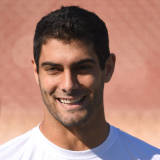 Former San Francisco 49ers CEO and president Carmen Policy offered up some absolutely bizarre advice concerning how he would approach the organization's contract negotiations with franchise-altering quarterback Jimmy Garoppolo."If I were representing the team I would enter the room and bring a large jar of Vaseline and I'd say to Jimmy's agent, 'I'm a nice guy, I really want to do...
MORE STORIES >>
49ers News

Delivered to your inbox

You'll also receive Yardbarker's daily Top 10, featuring the best sports stories from around the web. Customize your newsletter to get articles on your favorite sports and teams. And the best part? It's free!