We've updated our Privacy Policy.
By continuing to use this site, you are agreeing to the new Privacy Policy.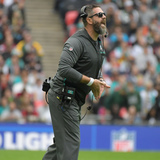 The Miami Dolphins have many issues plaguing them. And while the poor play of Jay Cutler and the offense gets headlines, the defense hasn't been good, either.Dolphins defensive coordinator Matt Burke, not surprisingly, isn't happy about this. And he's calling out a couple of the team's top defenders, Kiko Alonso and Cam Wake, along with the rest of his defense. "I think in general...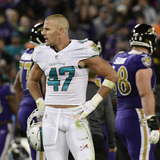 Joe Flacco suffered a concussion and needed to have his ear stitched up after he was hit in the head by Kiko Alonso Thursday night, but the Miami Dolphins linebacker insists he was not trying to commit a dirty play.According to Alonso, Flacco was partially responsible for the hit because he went into his slide too late. "It was bang-bang. It got to a point where I thought maybe if...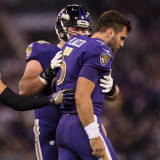 Joe Flacco suffered a concussion and needed stitches for his ear after being hit in the head by Kiko Alonso on Thursday night.The Baltimore Ravens quarterback was nailed by the Miami Dolphins linebacker on a third down scramble late in the second quarter. Flacco's helmet came off on the hit and his ear was cut. He was taken into the locker room for concussion protocol; it was clear...
LIKE WHAT YOU SEE?
GET THE DAILY NEWSLETTER: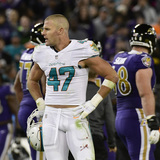 If we're going to sit back and call out Chicago Bears linebacker Danny Trevathan for his hit on Davante Adams, we have to be somewhat consistent.That consistency comes in the form of also calling out Miami Dolphins linebacker Kiko Alonso after he put Baltimore Ravens quarterback Joe Flacco in the concussion protocol with this cheap hit. Flacco might have been a runner on this specific...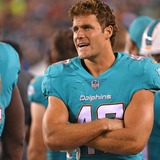 During the fourth quarter in Atlanta, Miami Dolphins linebacker Kiko Alonso had a chance to bury Taylor Gabriel and likely earn a 15-yard penalty. Instead, Alonso did a fireman carry on the diminutive receiver and ran a handful of yards down the field.It was very much like what you might see from a father or mother who grabs their child in a playful embrace. It was also hilarious...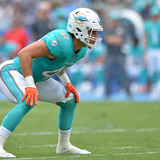 Miami Dolphins linebacker Kiko Alonso has ties to Puerto Rico, which was was devastated by Hurricane Maria, and is doing his part to help.In a video he distributed via his Twitter account, Alonso announced he's started a YouCaring page (click here) and has donated $25,000 to kick-start the effort. He also pleaded with people to give so that those suffering in Miami and Puerto Rico...
If Kiko Alonso wants to share photos on social media showing nice plays he has made during his NFL career, LeSean McCoy would rather be left out of it.On Sunday, Alonso posted a photo that appears to show the linebacker after he just hit McCoy and sent the Buffalo Bills running back flipping through the air. McCoy, whose Instagram handle is @shadymccoy, took exception to the photo...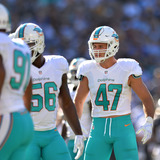 The Miami Dolphins have reportedly agreed to terms on a contract extension with linebacker Kiko Alonso.Mike Garafolo of NFL Network first reported the news, with ESPN's Adam Schefter later adding that the new deal will be a four-year extension. After a down year with the Philadelphia Eagles in 2015, Alonso bounced back to record 115 total tackles, one forced fumble and four fumble...
Much to the dismay of Buffalo Bills fans, the Bills did not reach the postseason in 2014. This marks the 15th year in a row that the Bills have not clinched a playoff spot, the longest active drought in the NFL. However, Bills fans do have reasons to be optimistic about their team going forward. Their defense ranked 4th overall in the league, and there is an abundance of young talent...
Bills LB Kiko Alonso anchors the team's defensive front. But the team may have to play without him in the 2014 season. The fear is that #Bills LB Kiko Alonso has suffered a torn ACL, per source. Tests to confirm soon. — Ian Rapoport (@RapSheet) July 2, 2014 #Bills announce that LB Kiko Alonso, while working out at Oregon, suffered a knee injury that "may be significant," based on...
MORE STORIES >>
Dolphins News

Delivered to your inbox

You'll also receive Yardbarker's daily Top 10, featuring the best sports stories from around the web. Customize your newsletter to get articles on your favorite sports and teams. And the best part? It's free!