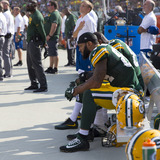 Green Bay Packers tight end Lance Kendricks comes from a military family and has never thought twice about standing for the national anthem. That is, until Donald Trump finally forced his hand.Kendricks, whose grandfather served in World War II and uncles fought in Vietnam, decided to take a seat during the national anthem in Week 5. Before Trump made his recent remarks encouraging...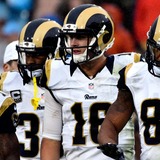 The Los Angeles Rams fell to 4-8 on the season Sunday in a bad loss to the New England Patriots, and players are beginning to feel the burden of continually losing. With the 26-10 loss, the 2016 Rams were ensured they will not have a winning season, something that has been consistent for the franchise since 2004. Since Jeff Fisher took over in 2012, the Rams have won well under...
The Rams have one of the thinnest and least proven receiving corps in the NFL, but they have no shortage of young guys with upside. One of those young guys is tight end Lance Kendricks, a 2011 2nd round pick. According to the Rams' official website, Kendricks figures to have a "prominent" role in the Rams' offense this year. This makes sense as Dustin Keller, a tight end, led the...
MORE STORIES >>
Packers News

Delivered to your inbox

You'll also receive Yardbarker's daily Top 10, featuring the best sports stories from around the web. Customize your newsletter to get articles on your favorite sports and teams. And the best part? It's free!