Rosen throws well during session NFL Draft hopefuls are salesmen at this time of year, pitching themselves to teams in any way they can. The quarterbacks likely to be selected at or near the top of the draft are no exceptions, and they know the New York Giants have the No. 2 pick and might use it on a quarterback. UCLA's Josh Rosen made his "I Love New York" pitch during a chat...
Matt Patricia will have many decisions to make this offseason, but I have one that he can mark off his list right here and right now. The Lions do not need another defensive end.I am sick of the absurdly high value that defensive ends have been receiving the last few years in the draft. Patricia and his staff need to highly examine whether it is really even worth trying.The star...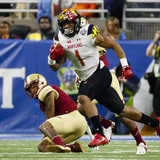 Every day is important during the 2018 NFL Scouting Combine, but Saturday is particularly exciting. Quarterbacks, wide receivers and tight ends will be hitting the field at Lucas Oil Stadium in Indianapolis to show off their speed, agility, explosion and skill.Of course, the main attraction is this year's crop of quarterbacks. But in today's NFL you need dynamic receiving threats...
NFL Media draft guru Mike Mayock found himself in the news this week by comparing Baker Mayfield to Johnny Manziel as quarterbacks. It's a comparison that really doesn't hold much ground. It also comes with those in the old school way of thinking showing themselves to be behind in the times.Hall of Fame executive Bill Polian going out there and saying Lamar Jackson should play wide...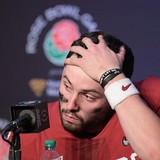 Former Oklahoma quarterback Baker Mayfield has been compared to fellow former Heisman winner Johnny Manziel off the field. That comparison might be a bit legit based on the off-field issues both divisive figures have had.No one has really compared the two as quarterbacks until now. That opinion comes in the form of NFL media draft expert Mike Mayock, who shockingly had this to say...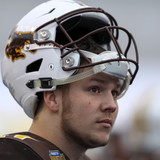 Josh Allen's status as a draft prospect remains a disputed conversation, but NFL Network analyst Mike Mayock has a positive view of the Wyoming quarterback.In his first position-by-position ranking, Mayock listed Allen behind USC's Sam Darnold but ahead of UCLA's Josh Rosen and Oklahoma's Baker Mayfield.Mayock is among the most well-known analysts in his field, and the mainstream...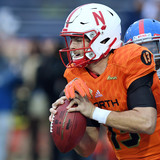 This is my first Senior Bowl week where I have not been in Mobile since 2008, and it's a decidedly different experience not being in attendance. Aside from missing the friends, the food, the nightlife, the hotel lobby and coffee shop fraternization with NFL scouts and coaches, I'm also missing the practice sessions.The experience of being there is quite divergent from the coverage...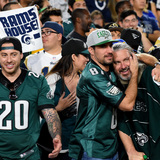 The NFL Network tries to keep it pretty clean on the air. Mike Mayock and Rich Eisen bickering about a draft selection is about as "gritty" as things ever get.But there's nothing prohibiting fans from acting-out – or acting-up – in the background.During a pregame broadcast before the Eagles-Falcons NFC Divisional Round playoff game on Saturday, an Iggles fan who can only be described...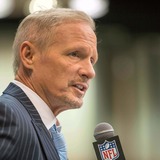 NFL teams got a bit creative when announcing draft picks on the final day of the big event in Philly this year, and NFL Network analyst Mike Mayock is not a fan of that — not at all.The Texans had an astronaut announce a pick from outer space, and the Colts enlisted the services of a monkey from a zoo to do one of theirs.Most fans and analysts thought that was a bit unorthodox, but...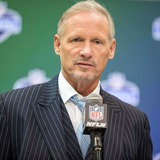 The Washington Redskins are going off the beaten path when looking at potential general manager candidates.According to ESPN's Adam Schefter, NFL Network draft analyst Mike Mayock is a candidate to take over the position. This would certainly be something. Mayock is well-known among fans for his analysis and presence on television. He did have a brief NFL playing career, but he has...
MORE STORIES >>
NFL News

Delivered to your inbox

You'll also receive Yardbarker's daily Top 10, featuring the best sports stories from around the web. Customize your newsletter to get articles on your favorite sports and teams. And the best part? It's free!