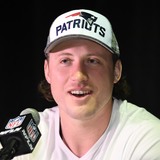 Offensive linemen have been getting paid big-time this week, and thanks to Nate Solder, they'll likely continue to command large deals.Solder signed a four-year, $62 million deal ($34.9 million guaranteed) with the Giants, making him the highest-paid offensive lineman in the NFL.The deal does make sense on paper, as the Giants had one of the worst offensive lines in football last...
The New England Patriots are facing some departures this offseason, but Tom Brady wants to make sure their contributions do not go unnoticed.Brady posted a set of images on Instagram of now former teammates Malcolm Butler, Nate Solder, and Dion Lewis on Instagram, along with the caption "brothers for life." Brady is rather fond of using Instagram to shout out his teammates. These...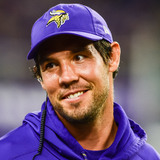 NFL free agency is anything but free. In fact, it could be argued that more bad signings are made every year than ones that can be considered slam dunks in hindsight. But the hope of instantly transforming a roster tempts even the best general managers from time to time.So, now that the NFL free agency frenzy has died down a bit after the first wave of high-profile signings, it's...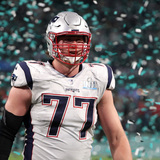 Left tackle has been an enormous area of weakness for the New York Giants, but the arrival of Nate Solder should immediately bolster the position.According to Ian Rapoport of NFL Media, Solder is expected to sign with the Giants when free agency officially begins.Mike Garofolo of NFL Media reports the veteran offensive lineman will become the highest-paid left tackle in the league...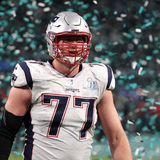 Patriots left tackle Nate Solder probably won't be a Patriot for long. It sounds like the free agent will be signing with either the Giants or Texans, based on what Ian Rapoport of NFL.com (on Twitter) has been hearing. There isn't a "lot of optimism" about him staying put with Bill Belichick & Co., according to Rapoport.  Solder, one PFR's top ten free agents, also had a serious...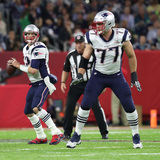 The New York Giants are coming off a rough season (3-13), but pick second in the NFL draft. They need help across the board, but they still aren't afraid to spend. And on Wednesday, the Giants would make LT Nate Solder the highest-paid lineman in the NFL. Solder turns 30 in April, but is a two-time Super Bowl champion with the Patriots. And outside of an injury-shortened season in...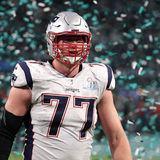 The New York Giants were one of the teams supposedly hot on the trail of top offensive guard Andrew Norwell, who ultimately signed a huge deal with the Jacksonville Jaguars. Having missed out on that prize, general manager Dave Gettleman is setting his sights on left tackle Nate Solder, per Albert Breer of The MMQB. The New England Patriots would love to have Solder back, but they...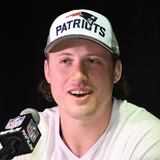 This is breaking news. Please refresh for updates.The Giants are among the teams with interest in tackle Nate Solder, according to Albert Breer of The MMQB (on Twitter). The Patriots free agent stands as the best available tackle in a weak market and figures to have a number of suitors.  The Giants are in serious need of offensive line help and have already missed out on top target...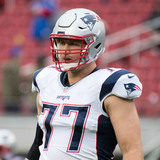 Nate Solder is arguably the best left tackle on the market. Not to mention, a two-time Super Bowl champion with the New England Patriots. But he turns 30 in April and the Cleveland Browns don't know what Joe Thomas is doing.Therefore, they have a need. So while Thomas makes up his mind, the Browns are in on Solder. Thomas, of course, didn't miss a game during his NFL career until...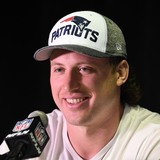 The Texans are making a strong run at left tackle Nate Solder, according to John McClain of the Houston Chronicle (on Twitter). The Texans started five different left tackles in 2017, so they are anxious to plug the hole with a capable player like Solder. If the Texans are intent on landing Solder, they'll have to pony up some serious bucks. The veteran ranks fifth on our list of...
MORE STORIES >>
Patriots News

Delivered to your inbox

You'll also receive Yardbarker's daily Top 10, featuring the best sports stories from around the web. Customize your newsletter to get articles on your favorite sports and teams. And the best part? It's free!