The 2003 Auburn Tigers came into the year ranked in the Top 10 and poised for a run at the National Championship. However, after opening the season with two road losses* to USC and Georgia Tech, respectively, it seemed that the Tigers may have been given a little bit too much respect by the pollsters. While they quickly recovered from the stumble—winning their next five games in...
Aside from being a Bengals fan, what disappoints me most about Odell Thurman is that he's such a talented player. In his rookie season in 2005, Thurman was the stud on the Bengals defense (yes, I realize that's like an oxymoron), racking up well over 100 tackles, five interceptions, and five forced fumbles. [...]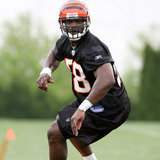 Back in the Yard, Barkers! Sorry for the delay - I have been running ragged since the draft. The days just keep flying by. It has been the quickest two weeks I have ever experienced. After sharing that great day with you I jumped on a plane to Cincinnati to meet the Bengals staff and the media. I flew home to LA the next day (Monday) and had to catch up on some class and repack...
MORE STORIES >>
NFL News

Delivered to your inbox

You'll also receive Yardbarker's daily Top 10, featuring the best sports stories from around the web. Customize your newsletter to get articles on your favorite sports and teams. And the best part? It's free!