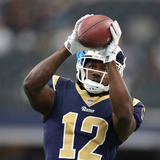 Sammy Watkins was the biggest name on the NFL's free-agent market this year, at least as it pertains to wide receivers, and a number of teams inquired about his services.Apparently, the Cowboys were one of those teams, which we recently learned, according to a report from Jean-Jacques Taylor of 103.3FM ESPN Radio."It was very close… as in money couldn't have been the reason," Taylor...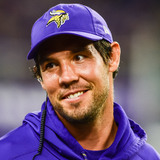 NFL free agency is anything but free. In fact, it could be argued that more bad signings are made every year than ones that can be considered slam dunks in hindsight. But the hope of instantly transforming a roster tempts even the best general managers from time to time.So, now that the NFL free agency frenzy has died down a bit after the first wave of high-profile signings, it's...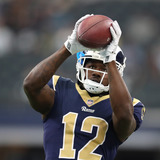 Early Tuesday morning, Sammy Watkins agreed to a three-year, $48MM deal with the Chiefs. Before that, Watkins had a booming market for his services. The Cowboys, Bears, Jaguars, and the incumbent Rams were among the teams in on the highly-coveted wide receiver, according to Terez A. Paylor of the Kansas City Star (on Twitter).  Watkins served as one of the top wide receivers available...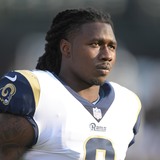 The Chiefs and Sammy Watkins have agreed to a three-year, $48MM deal, sources tell Ian Rapoport of NFL.com (on Twitter). The deal includes $30MM fully guaranteed at signing.The deal brings one of the biggest offensive weapons in this year's free agent class to Kansas City. Watkins did not have the kind of year he wanted to in Los Angeles, but he is still potentially lethal, particularly...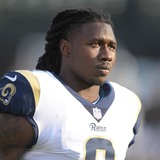 The Kansas City Chiefs may have the best offense in the NFL at the start of the 2018 season, at least on paper.According to ESPN's Adam Schefter, star wide receiver Sammy Watkins plans to sign with the Chiefs when free agency officially opens on Wednesday. Ian Rapoport of NFL Media reports that the deal will be worth $16 million per year over three seasons. That places Watkins among...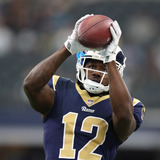 The Los Angeles Rams want to keep Sammy Watkins, but that's not going to happen. The Chiefs, after purging talent this offseason, are landing the 24-year-old wideout. But it comes with significant risk. Watkins hasn't played a full season since his rookie year. And while he only turns 25 in June, his previous two seasons don't scream $30 million guaranteed.Not to mention, his numbers...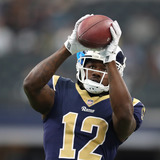 The Chicago Bears need some receivers for Mitchell Trubisky, and it sounds like they are targeting Sammy Watkins in free agency.The Chicago Tribune's Brad Biggs reported on Monday that Watkins is the Bears' top target. He also says the team has interest in receiver Allen Robinson, who is coming off a torn ACL.Watkins has not played in a full 16 games since his rookie season in 2014...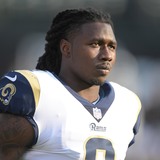 The Browns took on some more salary last week by adding Jarvis Landry and Tyrod Taylor, but the team is still loaded with cap space. And the John Dorsey-led operation plans to be active this week.Nate Solder is on the Browns' radar as a possible Joe Thomas replacement, Mary Kay Cabot of cleveland.com reports. While Thomas hasn't announced his retirement, a decision on whether he...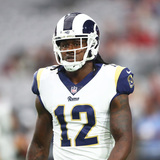 The Green Bay Packers are reportedly interested in bringing in some new weapons for Aaron Rodgers, and that could spell bad news for his old ones.Ian Rapoport said on NFL Network Monday that the Packers are among the teams that have shown interest in Sammy Watkins, who was not franchise tagged by the Los Angeles Rams last week. Green Bay is also said to be keeping an eye on Allen...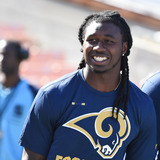 The Los Angeles Rams are not expected to use the franchise tag on Sammy Watkins ahead of Tuesday's deadline, and you have to wonder if the wide receiver is pleased about that.Shortly after Jason La Canfora of CBS Sports reported that the Rams plan to use the franchise tag on defensive back Lamarcus Joyner, Watkins sent a cryptic tweet. What could that mean? Your guess is as good...
MORE STORIES >>
Chiefs News

Delivered to your inbox

You'll also receive Yardbarker's daily Top 10, featuring the best sports stories from around the web. Customize your newsletter to get articles on your favorite sports and teams. And the best part? It's free!