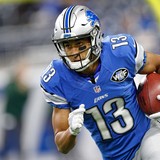 The Lions don't plan to tender restricted free agent T.J. Jones, according to Dave Birkett of the Detroit Free Press (on Twitter). However, it's possible that the team will bring Jones back on a lesser deal. Jones, 26 in July, first joined the Lions as a sixth-round pick in the 2014 draft. He had his best year to date in 2017, catching 30 passes for 399 yards and one touchdown.The...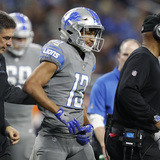 The Lions will have to make their playoff push without the services of their No. 4 wide receiver. On Tuesday, the Lions placed T.J. Jones on injured reserve. To take his place on the roster, the Lions signed wide receiver Andy Jones (no relation).  T.J. Jones exited Saturday's win over the Bears with a shoulder injury. His season ends with 30 catches for 399 yards. Without him, recent...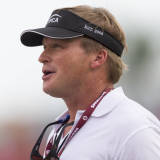 Among the highlights of "Monday Night Football" this week didn't have anything to do with the action on the field as the Detroit Lions dismantled the Green Bay Packers, leaving Lambeau Field with a rare victory. Instead, it occurred when Jon Gruden spent an entire segment introducing the nonsensical term "Turkey Hole" to the NFL lexicon.Gruden explains the turkey hole as when a quarterback...
Fact: Ricardo Allen never puts sour cream on his taquitos The Atlanta Falcons somehow won their game today. I won't try to explain how they pulled it off, but they did, and that's all that counts. Meanwhile, there were a couple injuries of note, so let's break them down. The Falcons actually stayed pretty healthy until late in the game. Julio Jones got hurt in fourth quarter when...
Could this be the next prep superstar for the Halos? The Angels farm system is known for a number of things, it produced the best player in the game in Mike Trout, had one of the best drafts of this time in 2009 when they selected Mike Trout, Randal Grichuk, Tyler Skaggs, Patrick Corbin, and Garrett Richards, and was really the nucleus for all of the franchises success from the...
The Detroit Lions have listed T.J. Jones as their starting return man for Week 1 against the San Diego Chargers, according to the team's official website. Jones just barely made the Lions' 53-man roster as the fifth wide receiver, so he's cherishing the opportunity to make a difference on special teams. "Whether it's front line on kick return or starting receiver, I think you have...
Detroit Lions wide receiver T.J. Jones hasn't generated much hype as a professional. He was a sixth-round pick in last year's draft and missed his entire rookie season with a shoulder injury.But Jones does have one big fan. And by big, we're talking like 6-foot-5, 236 pounds big.That's right. Fellow wide receiver Calvin Johnson is one of Jones' biggest supporters, according to Carlos...
It doesn't take long for an NFL team to give up on a sixth-round pick, as Detroit Lions wide receiver T.J. Jones knows all too well. After missing his entire rookie season to a shoulder injury, Jones is now aiming to impress in training camp in order to keep his job."It's, I think, my most important (off-season)," Jones told Carlos Monarrez of the Detroit Free Press. "I think it...
The Detroit Lions entered the final day of the 2014 NFL Draft with five picks across rounds 4-7. With plenty of talent remaining and team needs to fill, the Lions had some work to do on Saturday. Detroit still had glaring team needs in the secondary, at receiver, and on the defensive line. They addressed those holes as they  picked through the remaining pool of players. Here's who...
MORE STORIES >>
Lions News

Delivered to your inbox

You'll also receive Yardbarker's daily Top 10, featuring the best sports stories from around the web. Customize your newsletter to get articles on your favorite sports and teams. And the best part? It's free!