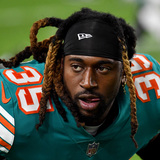 This is breaking news. Please refresh for updates.Walt Aikens is signing back with the Dolphins on a two-year deal, a league source tells Armando Salguero of the Miami Herald (on Twitter). The defensive back is now under contract with Miami through the 2019 season.Aikens played in all 16 games last season in a backup role and tallied a forced fumble and two tackles without an interception...
Bills RB Reggie Bush feels like he has a lot left to give in football. S Walt Aikens doesn't think the Dolphins will have a big celebration if they clinch a playoff spot. QB Tom Brady wants the Patriots to finish stronger than they did last regular season. Jets S Calvin Pryor hasn't had the…
The Miami Dolphins are up 34-10 on the New York Jets in the third quarter. This play by Walt Aikens but the Phins up 10 and they haven't looked back since….. BLOCK.SCOOP.SCORE.@Walt_Aikens does it all himself! #MIAvsNYJ https://t.co/3HsKKgIymK — NFL (@NFL) December 18, 2016
With the loss of Louis Delmas and an ailing Reshad Jones second year fourth round pick Walt Aikens was thrown into the fire against the Jacksonville Jaguars. With only 14 tackles coming into the season, Aikens is an inexperienced safety and growing pains are to be expected. Starting safety Reshad Jones not only leads the league in tackles (tied with three others including Dolphins...
The Miami Dolphins defense suffered a big loss in their secondary during the first joint practice against the Carolina Panthers on Wednesday morning. Starting safety Louis Delmas tore the ACL in his right knee - the same knee he tore last time - and is now confirmed to be out for the season.The injury to Delmas is a right anterior cruciate ligament which has once again torn, and...
The Miami Dolphins suffered a huge blow on Wednesday as they lost starting safety Louis Delmas for the year to a torn ACL. Delmas was not only a solid safety on the backend, but he was a vocal leader on defense. His presence won't be easy to replace, but the new starting safety for Miami is likely on the roster already. Walt Aikens and Michael Thomas are the two players competing...
While the Miami Dolphins are no longer doing public practices in Davie, there's still a chance for fans to come and see the Miami Dolphins in action in practice. Fans came out in force to Spartanburg, South Carolina to root for their team, and needless to say it was standing room only.Naturally, it was required that those coming to watch the Dolphins needed to share with the fans...
MORE STORIES >>
Dolphins News

Delivered to your inbox

You'll also receive Yardbarker's daily Top 10, featuring the best sports stories from around the web. Customize your newsletter to get articles on your favorite sports and teams. And the best part? It's free!