Zach Kerr walked out of a training room this week and made a beeline toward the cleats coated in a retina-burning orange perched inside his locker. "Oooooh," Kerr squealed in about as high a pitch as a 334-pound defensive lineman can muster. "I'm hyped to play in these. I haven't played in the color rush uniforms." The past year has been all about new experiences for Kerr, the gregarious...
In the NFL, games are won by inches and the Denver Broncos just aren't a team that finishes well. After the Denver Broncos dropped their seventh straight game with a loss to the Oakland Raiders, the frustration reached all-time highs in the locker room. Eric Goodman and Les Shapiro of The Afternoon Drive discussed that on Monday. Around the twelve and a half minute mark, Eric...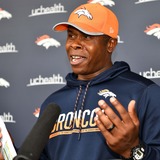 One of the reasons the Broncos were unable to defend their Super Bowl title last season was their run defense.They had the league's No. 4 overall defense and ranked first against the pass, but they were 28th in rushing yards allowed per game and tied for 18th with 4.3 yards allowed per carry. In the last 10 games, opponents averaged 141 rushing yards per game against the Broncos...
ENGLEWOOD, Colo. (AP) A person with knowledge of the deals tells The Associated Press that the Denver Broncos have agreed to terms with free agent defensive tackles Domata Peko of the Bengals and Zach Kerr of the Colts. Peko and Kerr agreed to two-year deals, said the person who spoke on condition of anonymity because the Broncos weren't commenting on the agreements. Peko, whose...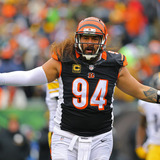 General manager John Elway and the Denver Broncos apparently aren't done fortifying the trenches for the upcoming season. After adding offensive linemen Menelik Watson and Ronald Leary earlier in free agency, Denver has reportedly signed long-time Cincinnati Bengals defensive tackle Domata Peko. Peko, an 11-year NFL veteran, doesn't provide a whole bunch from a pass-rush standpoint...
INDIANAPOLIS -- Andrew Luck can see and hear the reminders of the Indianapolis Colts' slow starts every day.If there's not a question being asked, he can find the gory details on tape. He might even get a lesson about the necessity of digging deficits early in games.By now, everyone in that locker room understands the message and the mission Sunday at Denver."You can't spot a team...
Every week we see wide receivers and running backs do all sorts of crazy, whacked out celebrations after they score a touchdown, get a first down, make a big hit, or put their helmets on right. Often times it is hard to even tell what in the world they are trying  to do.That is not the case when you a defensive lineman like Zach Kerr celebrate a sack.@cjzero/TwitterRead more »
Undrafted free agents are a long shot to make the team, the second they get picked up by a team. But, the Indianapolis Colts have plenty of holes to fill and have added some talented players into the fold. Here are the players most likely to make the final 53-man roster: Zach Kerr, DT, Delaware: Kerr is a big man at 6-foot-1, 326-pounds, and that makes him well suited for the nose...
The Indianapolis Colts have a total of 19 undrafted free agents to go along with their five selections they made in the 2014 NFL Draft for a total of 24 rookies attending training camp this offseason. Former University of Delaware nose tackle Zach Kerr is one of the rookies that will be on the watch list of the Colts for good reason. Kerr comes into camp as an undrafted rookie free...
Every person who's ever dreamed of being a professional athlete has envisioned him- or herself being drafted. It's one of those moments that only a select few get to experience. Each year 60 basketball players, 256 football players, 1216 baseball players and any other group of athletes who participate in a draft scenario have to […] The post Rolling Stone Presents: Justin Tinsley...
MORE STORIES >>
Broncos News

Delivered to your inbox

You'll also receive Yardbarker's daily Top 10, featuring the best sports stories from around the web. Customize your newsletter to get articles on your favorite sports and teams. And the best part? It's free!