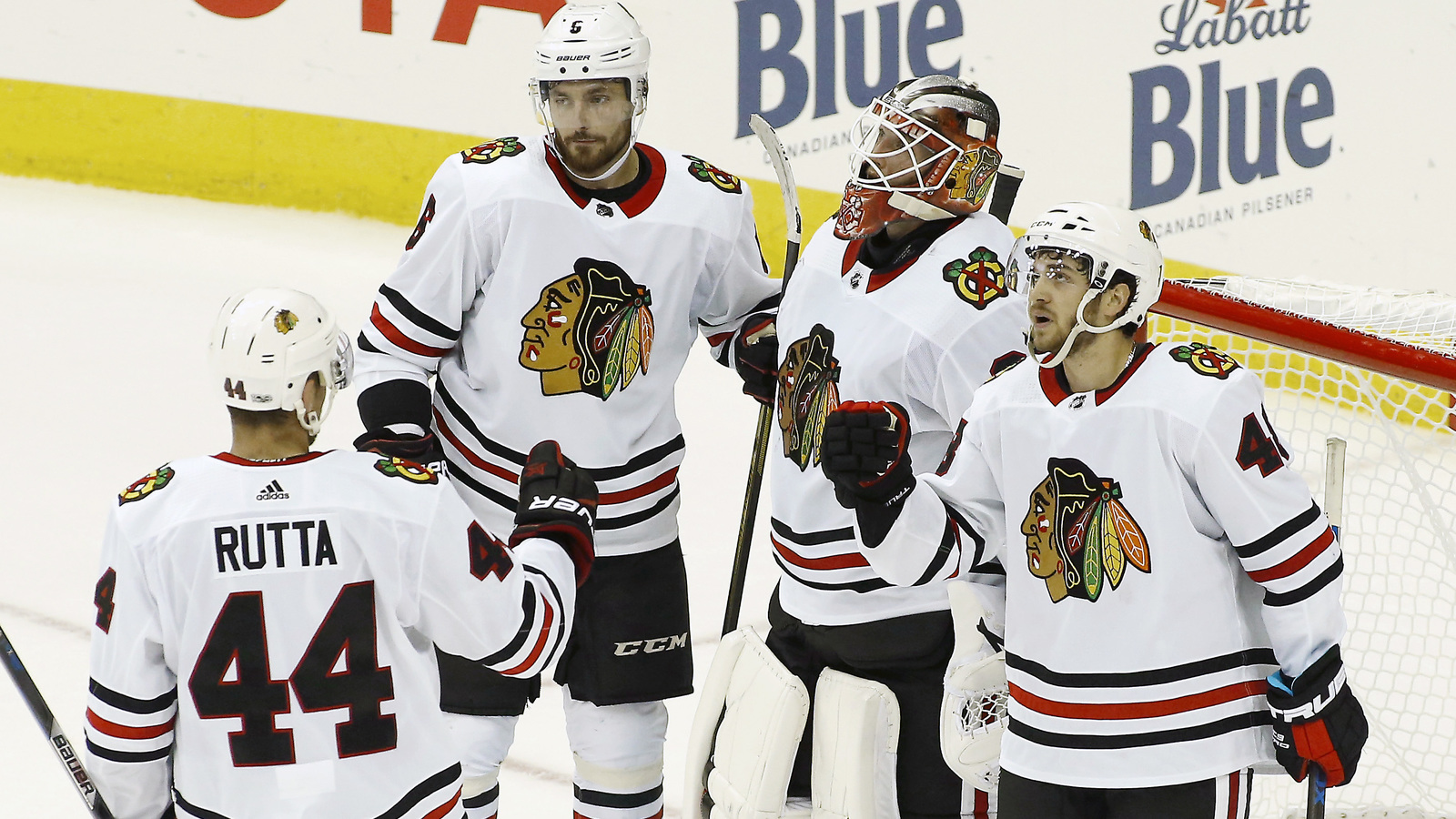 Anton Forsberg is fighting for the backup goaltender job in Chicago.
Joe Maiorana-USA TODAY Sports
The Chicago Blackhawks know that strong goaltending is an important part of any hockey team. In all three of their most recent Stanley Cup wins, goaltending has played a strong role, and there have been very dynamic duos. Most recently the Hawks found great success with Corey Crawford and Scott Darling. The two balanced each other out, stepping in when the other needed help. When Crawford struggled during part of the 2015 playoffs, Darling was there to take his spot, and when Darling had rougher patches, Crawford was always ready to take the crease. However, the Hawks traded away Darling this summer due to his need for a higher salary and their problems with the salary cap. With Crawford still as the top goalie for the organization, the Hawks have brought in some other goaltenders. It has yet to be determined, however, who will get the job of being the backup.
Being the backup goaltender is by no means an easy task. Though some fans may wonder how hard it is to just sit on the bench during a game, that's not quite what is happening for the backup goalie. He has to be ready to take the ice at any given moment, whether it is to relieve his fellow goalie who is having a hard night or who has sustained an injury. Though he may not take the ice as much as his teammates, he is expected to train just as hard, if not harder, for those stressful moments when he is relied upon. Being a backup goalie calls for a lot, and that is why the Chicago Blackhawks have such a big decision to make.
As of right now, the Hawks have two main options in front of them. Jean-Francois Berube and Anton Forsberg have both had a chance to take the ice during preseason and show off what they have to offer. Berube signed a two-year contract with the Blackhawks in July and previously appeared with the New York Islanders. At only 26 years old, he still has plenty of time to develop. Forsberg was picked up during the multi-player swap with the Columbus Blue Jackets this summer. He also inked a two-year deal with the Hawks and has plenty of time to develop as well, given that he is only 24 years old.
Berube played in the Hawks' most recent game against the Columbus Blue Jackets. He had a bit of a tough time, allowing three goals on only 21 shots. However, Berube does have the upper hand in terms of NHL experience. He played with the Islanders for two seasons and appeared in 21 games, 13 of which he started. With the Islanders' strange system of holding three goalies at one time, Berube ended up seeing less ice time than he probably should have and did not get to develop as he could have. However, he is willing to put that in the past and focus on his role now. He knows that backing up a team like the Chicago Blackhawks, who are hoping to go much further in playoffs this year, is not the same as backing a team like the Islanders and has put a lot of work into his training for the position.
Forsberg is also another option for the Hawks and proving to be a strong one at that. He also appeared in a preseason game against the Blue Jackets, stopping 38 of 40 shots faced. Forsberg previously spent three years with the Blue Jackets but only appeared in 10 games during that time. So far, he's shown a lot of promise, but 10 games are tough to judge. However, there is a huge factor in analyzing Forsberg's play. During his time on the ice, he was playing in front of a team of mainly rookies, prospects and younger players. Hawks stars like Jonathan Toews did not take part in that game, and Forsberg ended up facing a lot of traffic in front of his net. He also faced shots from some bigger-name NHL players, like former Hawk and 2016 Calder Trophy winner Artemi Panarin. Though Forsberg does not have lots of NHL experience, he does have championship experience. He and the Erie Otters picked up the Calder Cup in 2016. Forsberg had a shutout in the winning game, showing that he can perform well under pressure.
Both goalies have size on their side, with Berube at 6'1" and Forsberg at 6'3". The Blackhawks will also look for quickness from the pair during the rest of the preseason, as well as how well they can track the puck from various angles. In the event that Crawford ends up getting injured this season as he has in the past, the backup goalie would be in, so the Hawks need a goalie who can further develop and aim for the same skill level as Crawford. When Darling first started with the Hawks, he wasn't nearly as developed as he was by the time he was traded. Yet this year, he'll appear as the Carolina Hurricanes' starting goalie. It's important that a goalie can adapt and change over time, so the Hawks won't just be looking for someone who is a strong player right now, but also someone who has the opportunity to get even better in the future and could possibly take over Crawford's job if he ends up being traded or retires.
Chicago also has an option with its AHL team, the Rockford IceHogs. Though they just sent goaltender Jeff Glass back down, the Blackhawks always have the opportunity to bring him back up if needed. Glass was previously called up to play backup to Corey Crawford when Darling was injured this spring. He didn't end up playing in any games and has yet to play in an NHL game, but he has been playing at a high level in Rockford. It's likely that he'll end up being more of a last-choice option, since the Hawks do have two potential backup goalies already who have NHL experience under their belts.
The Blackhawks have three more preseason games before the regular season starts, and they'll want to use all three games to carefully analyze their options. It's obvious that Crawford will once again be the starting goaltender as he has been for the past few years, but he needs a strong backup behind him. Whether the Hawks go with Berube or Forsberg, they'll want to make sure they have a candidate who is well-versed in his game and can remain calm in any situation. After all, you never know when a Blackhawks game will go into overtime.
MORE FROM YARDBARKER:
QUIZ: Name the 17 players on both the 2012-13 and 2014-15 Stanley Cup winning Chicago Blackhawks
17 players were on both the 2012-13 and 2014-15 Stanley Cup-winning Chicago Blackhawks. How many of these NHL players can you name?
Clue: Number/Position
MORE FROM YARDBARKER
Blackhawks News

Delivered to your inbox

You'll also receive Yardbarker's daily Top 10, featuring the best sports stories from around the web. Customize your newsletter to get articles on your favorite sports and teams. And the best part? It's free!