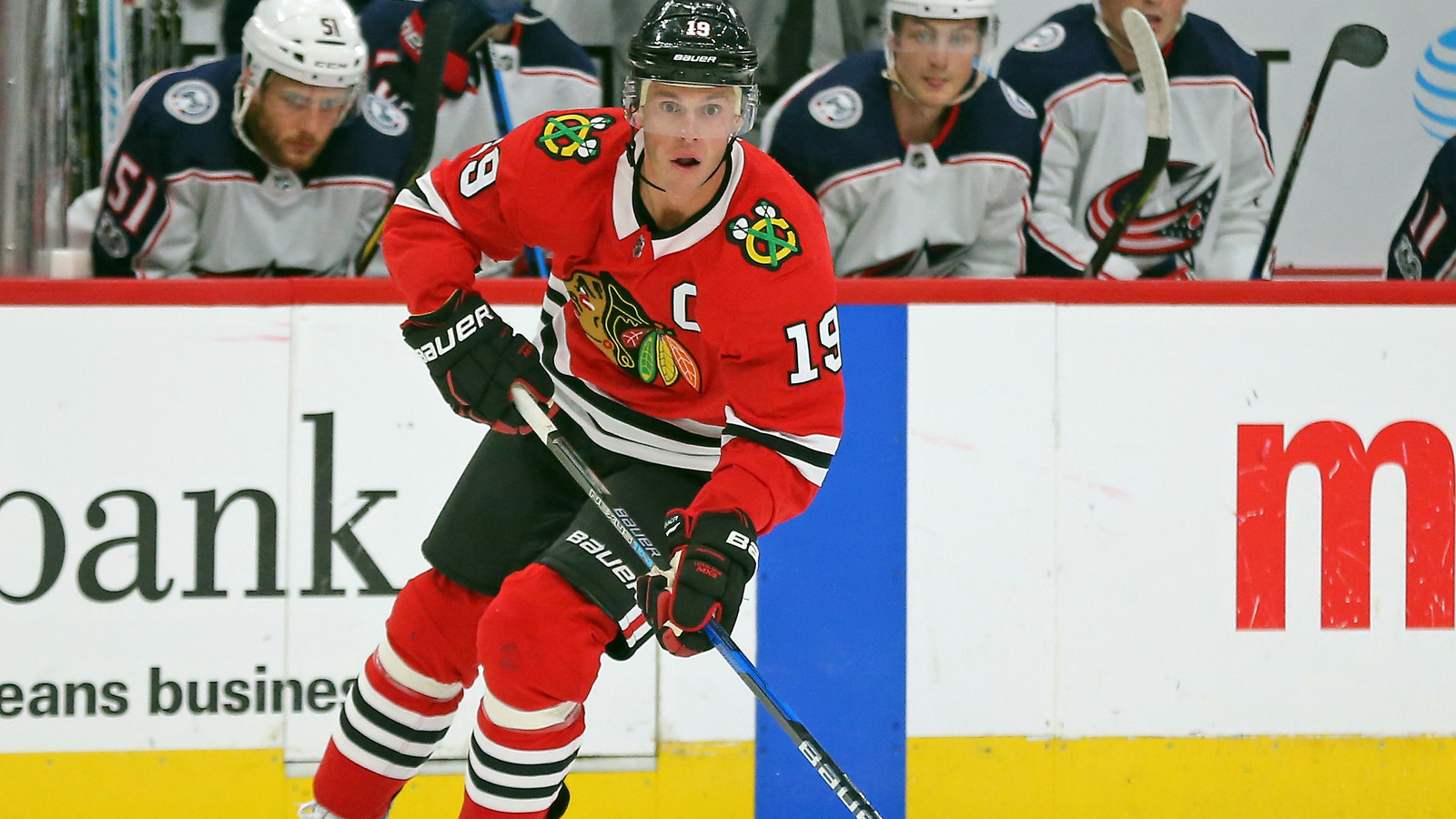 Jonathan Toews and the Blackhawks enter the 2017-18 season once again as potential favorites.
Dennis Wierzbicki-USA TODAY Sports
Everything is settling into place for the Chicago Blackhawks, who will open the regular season on Thursday night at the United Center. With the night quickly approaching, the team has spent the past week making final changes and determining the opening night roster. Though there are still a few factors that could play into who hits the ice on Thursday, fans do have a pretty strong sense of which players they'll get to see in the iconic red sweaters.
As always, there will be plenty of well-known Hawks veterans taking the ice. Despite getting hit by a Duncan Keith shot in the last preseason game, captain Jonathan Toews appears to be OK and will look to lead his team to a strong start. Patrick Kane will help lead the second line, and Corey Crawford will get the opening start. However, the Hawks will be without one of their best veterans. It was announced earlier in the year that Marian Hossa would not be able to play this season due to a skin condition. The Hawks waited to hear from the league as to whether or not they could put Hossa on long-term injured reserve and finally heard back from the league this week. The NHL determined that Hossa could be placed on LTIR, which will allow the Blackhawks to maximize more of their cap space with his cap hit of $5,275,000.
In addition to Hossa, the Blackhawks also placed fellow veteran Michal Rozsival on LTIR. Rozsival did not pass his team physical in September and has not practiced with the team as a result. He is said to be suffering from concussion symptoms, which are a result of being punched in the head by the Arizona Coyote's Nick Ritchie back in April. Rozsival has a cap hit of $650,000, which will open up even more room for the Hawks to work with.
While the Hawks have placed members of their team on LTIR, they have also been sending individuals down to the Rockford IceHogs. The team most recently sent down Vinnie Hinostroza. Though Hinostroza has great potential and produced decently for the team, the Blackhawks believe he still needs time to develop a little bit more to really be a strong asset. In the event that someone else gets sent down or injured during the season, Hinostroza will likely get his chance at the NHL level again.
Other players will likely join the IceHogs soon, too, due to being placed on waivers. Goalie Jean-Francois Berube and wingers Tomas Jurco and Jordin Tootoo were placed on waivers after their training camp and preseason performances. They are all expected to clear waivers and end up in Rockford. Thanks to Berube being placed on waivers and his solid performance in the preseason, goaltender Anton Forsberg will get to play backup to Crawford to open the season.
With the various players being sent to Rockford, a few spots opened up on the team and allowed some rookies to gain their spots. After a fantastic preseason and training camp, John Hayden will get another chance to show what he can do at the NHL level. With size and skill both on his side, Hayden will likely get his chance on the fourth line. He has also shown that he can hold his own in fights and lay out a hit, which will be a strong addition to the overall skill of the team. 
Alex DeBrincat will also get a chance on the opening night roster, which many hockey fans have been speculating about. At only 19 years of age, DeBrincat could have spent time in Rockford developing his talent, but the team seems to think that he is ready to join the big league. DeBrincat has played alongside a few different players during training camp and preseason, including team leaders Toews and Kane, but will likely join the second line with Kane. After trading away Artemi Panarin to the Columbus Blue Jackets, the Hawks will need a quick winger to work with Kane, and DeBrincat is a strong choice. He had two goals in the preseason and previously played alongside the Edmonton Oilers' Connor McDavid, showing that he can play next to some of the NHL's best players.
The Blackhawks will open up the regular season against the reigning Stanley Cup champions, the Pittsburgh Penguins, on Thursday night, and they will need to make sure they get things started on the right foot. Both last season and the previous season ended in dismal performances that should have left the players yearning for more. They have a promising roster this year and some amazing talent to help lead them through games, but it will ultimately be up to the the Blackhawks and what they can produce in order to help them have a great season.
MORE FROM YARDBARKER:
QUIZ: Name the 17 players on both the 2012-13 and 2014-15 Stanley Cup winning Chicago Blackhawks
17 players were on both the 2012-13 and 2014-15 Stanley Cup-winning Chicago Blackhawks. How many of these NHL players can you name?
Clue: Number/Position
MORE FROM YARDBARKER
Blackhawks News

Delivered to your inbox

You'll also receive Yardbarker's daily Top 10, featuring the best sports stories from around the web. Customize your newsletter to get articles on your favorite sports and teams. And the best part? It's free!