We've updated our Privacy Policy.
By continuing to use this site, you are agreeing to the new Privacy Policy.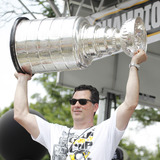 New Carolina Hurricanes owner Tom Dundon probably did not expect this process to be so hard. After Los Angles Kings Assistant GM Mike Futa joined Nashville Predators Assistant GM Paul Fenton in dropping out of the running to be the next Hurricanes GM early yesterday, two more names are off the list. Sportsnet's Elliotte Friedman reached out to a potential candidate, New Jersey Devils...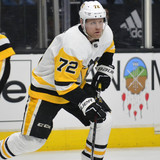 While meeting with media to discuss his team's trade deadline, Pittsburgh Penguins' GM Jim Rutherford revealed another detail that will make a lot of fans happy. The team is closing in on a contract extension with pending unrestricted free agent Patric Hornqvist. He believes the deal will be finalized tomorrow. While meeting with media to discuss his team's trade deadline, Pittsburgh...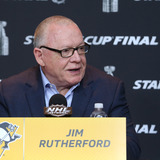 The Pittsburgh Penguins and GM Jim Rutherford made no attempt to hide the fact that they were after a third-line center early in the season. Rutherford admitted several times that he had certain candidates in mind, and eventually went out and added Riley Sheahan from the Detroit Red Wings. Sheahan wasn't the "impact" player that Rutherford had spoken about, but he was at least a...
LIKE WHAT YOU SEE?
GET THE DAILY NEWSLETTER: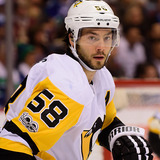 Although they made a couple of smaller deals right before the trade freeze, the Penguins are looking to make a splash in the trade market, reports Sportsnet's Nick Kypreos (video link).  In particular, Kypreos notes defenseman Kris Letang as someone that they may be willing to move, in part to shed some salary.  Letang carries a $7.25MM cap hit through 2021-22.2017-18 has not been...
By Jason Rowan Pittsburgh Penguins general manager Jim Rutherford allegedly confrontedPittsburgh Tribune-Review columnist Rob Rossi in a Consol Energy Center elevator on Monday night. The Pens' first-year GM apparently is unhappy with some critical columns Rossi has penned about the team over the past several months and finally decided enough was enough, letting the writer have...
Anyone who watched the Pittsburgh Penguins under the previous regime of Dan Bylsma knows that the team had more than it's fair share of weaknesses. A lack of scoring depth,  shaky goaltending, injuries, and oftentimes sloppy neutral-zone coverage were all major factors in a Jekyll-and-Hyde season that saw Pittsburgh jump between looking like an elite contender and a seriously flawed...
Pittsburgh Penguins General Manager Jim Rutherford is adamant that his team has all the pieces they need to be competitive this season. Sorry, but I don't see it. Don't get me wrong, I love just about everything Rutherford has done this summer. Rutherford. His shrewd business plan has landed the Penguins a quality group of bottom-six forwards, most of them on one-year deals, that...
Jim Rutherford Before free agency started on July 1st, Pittsburgh General Manager Jim Rutherford was interested in going after a top-line winger (Nikolai Kulemin) as his primary target. Three day later, and the Penguins have made quite a few moves, filling holes at just about every position possible except the one most fans were expecting them to: a winger for second-line center...
Will Nikolai Kulemin land in Pittsburgh? Pittsburgh Penguins General Manager Jim Rutherford made more than a few waves at this year's NHL draft. First there was the controversial trade of James Neal to the Nashville Predators for Patric Hornqvist and Nick Spaling.  Then during his post-first round press conference, Rutherford proclaimed that the Penguins would be extremely active...
MORE STORIES >>
Penguins News

Delivered to your inbox

You'll also receive Yardbarker's daily Top 10, featuring the best sports stories from around the web. Customize your newsletter to get articles on your favorite sports and teams. And the best part? It's free!